Good taste still taste great even in small packaging…haha!
I don't really like ice cream except for a few brand so when I bought this Mini Cornetto, I really hope it wouldn't be a waste of my money.
Usually I will buy Magnum and keep it in my fridge in case certain days I have the yearning for sweet things.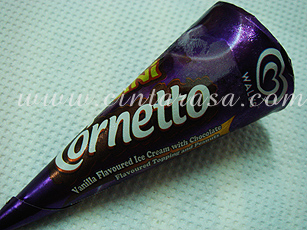 My opinion, for people who like the full length ice cream having 2 or 3 of this mini will do for their craving. But for people like me or small kids age 5 and below, one mini size is enough to enjoy.
I know a friend who has a 2 year plus son who keeps this mini in her fridge like 2-3 boxes. The son loves ice cream and she said this Mini helps to maintain her waistline as well because she wouldn't need to finish up the full size Cornetto when the son couldn't finish it all.
I think they have like 3 flavors in the market. Go and check at hypermarket nearby you.