I'm sure many of us locals already noticed the advertisement of KFC new promo on TV, on radio and in newspapers. They are having rice combo as part of their KFC set. I think most of fast food joint in Malaysia are having such thing – the rice set.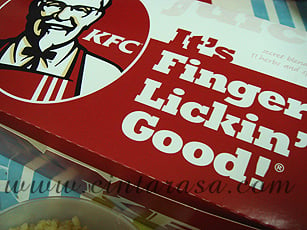 Is it true that Malaysians must have rice? hehe..I think I do, at least once a day. So to try the taste of the KFC rice combo, I bought one set last week. But since I didn't have the time to eat it at the restaurant, I bought the rice combo to go so maybe that's why I couldn't really enjoy the real taste of it..(what an excuse..)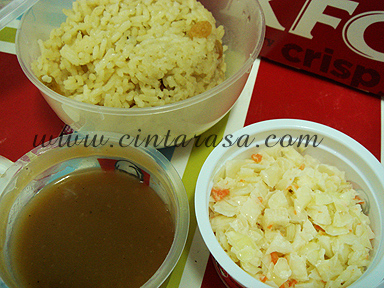 Personally, I don't like the combination of the rice and the chicken. But the chicken as usual is good. I love the Hot and Spicy. I know some people still prefer the Original recipe. An expat friend said that Malaysian KFC is the best she has tasted. I don't know about that because I'm not sure KFC in other foreign country is halal or not. Next time when I go to Middle East I will look for their KFC branch, if they have any!
Looking at the pictures, I should have taken out all and put them on a nice plate for illustration purpose. But I don't want to cheat my readers..haha..coz that's how it looks like if you buy take-away KFC.