What would you cook for weekend lunch since you have extra time in the kitchen?
I tried the instant spice available to make Nasi Tomato and Hubby said even though the taste was not as good as the original home made spice, the rice is still edible. Yeah, nothing can beat the fresh taste of newly grounded onion and ginger. But still if you don't have enough time to do all that, you can always use the instant spices for Malay cooking. Especially when you are thousands of miles away from home and it is not easy to find fresh spices on foreign land.
This is how the nasi tomato looks like in my rice cooker.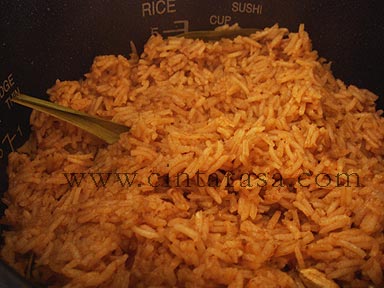 Of course this was after I fried the spice on stove and put all ingredient inside. When it was going to boil I took the pot from the stove and put it inside the rice cooker for it to cook as normal rice. Easy job, huh!
My nasi tomato goes well with Ayam Masak Merah as main dish. Actually you can cook some dalca or vegetable curry to have some gravy on your rice, but since there are only 2 of us to eat, I just don't feel like cooking one whole pot of curry for that purpose.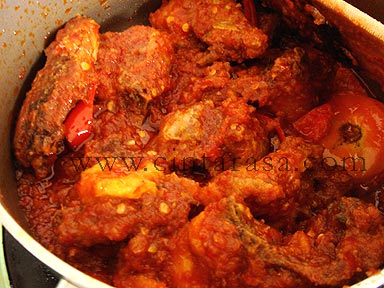 Since you would need vegetable to complete the meal, I made acar timun and carrot. It was very easy to make, you just cut the carrot and cucumber in julienne style, add big onion (in my case since I don't eat onion, I sliced them thick so that I could pick and throw them out when I eat the acar), add some vinegar, sugar and salt to taste. Toss them with your hand and keep in the fridge to cool for a while.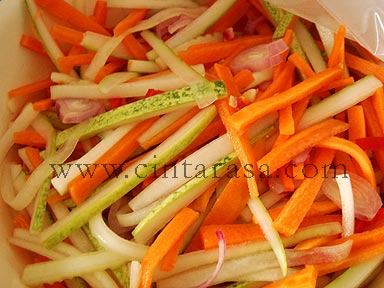 It may take longer time (in about one hour) cooking all of these in the kitchen compared when you sit down at the restaurant, just order your meal and be served, but when your family enjoy eating your home-cooked meals, I think it will be worth all your effort. 🙂