I missed having vegetarian meals. Back then in my Uni, we have one Indian aunty who sell vegetarian food. My junior roommate used to buy lunch from the vegetarian stalls almost everyday.
So one day I gave it a try after learning about the vege "chicken and eggs" from her. It tasted good and I like vegetarian chicken and egg ever since..hehe..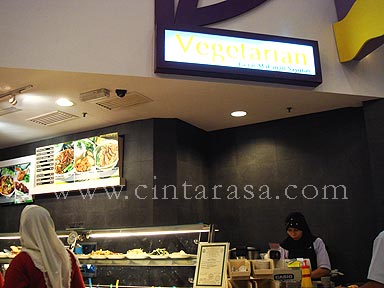 So when I finally went to Mid Valley for a Career and Entrepreneur exhibition last week (on support to a friend who has to handle his company's booth), we decided to have a look at the food court. It has been almost a year since my last visit to Mid Valley.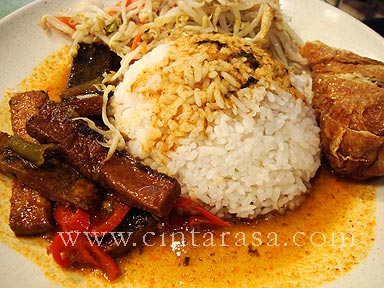 So this is the meal set. You get rice, two sets of lauk and one vegetable. Each set costs RM6.50, which I think a normal rate for food at Mid Valley.
I have been eyeing the chicken set with the eggs. So that's what I choose for my set meal.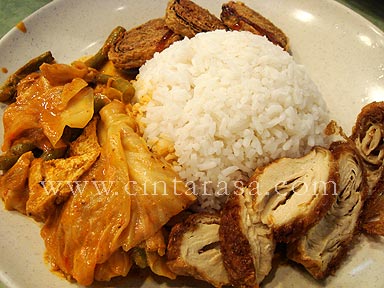 Since I don't like their stir-fry beansprouts, long beans or bitter gourd, I chose the vegetable curry instead to complete the set.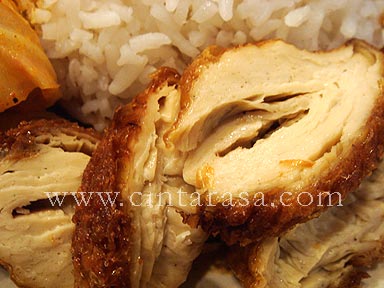 Check out the "chicken drumstick". It's all tofu (soya) based but they make it so nice that you can actually see something like the flesh of chicken and its skins.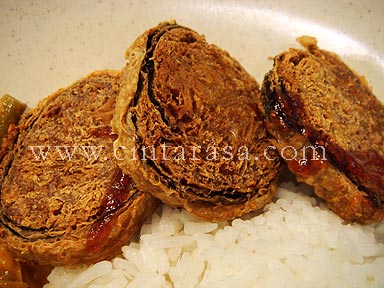 And this is the "eggs". It's crunchy and I like it very much. I saved a few slices for last. How good it would be to have something like this, should I say it's like having comfort food.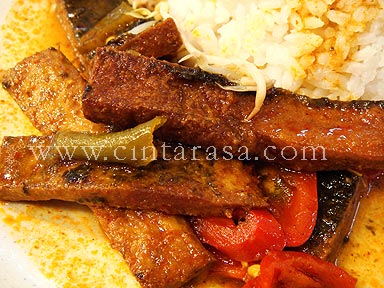 Hubby took this one, we are still not sure whether it should be fish fillet or cuttlefish..haha..Hubby thought it was ikan asam pedas vegetarian style. But I still recommend the chicken and egg.
I will surely have this vegetarian meal set again whenever I go to Mid Valley next time.