I always like to dine at Secret Recipe. Maybe because the ambient at most of their outlets- nice, cozy, not too superficial and the food is always great (at least most of what I have tried tasted good).
So this is one of my many dining experiences at one of the Secret Recipe outlets.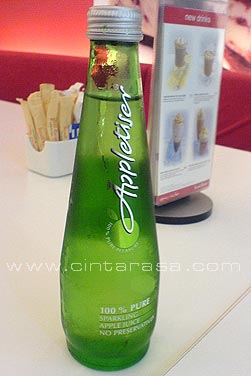 I decided to try different drinks apart from their choice of soft drink and ice lemon tea. So I chose this fancy looking sparkling apple. (I still prefer the sparkling apple at Nandos!) Oh, I took the bottle home because I was planning to do decoupage on it.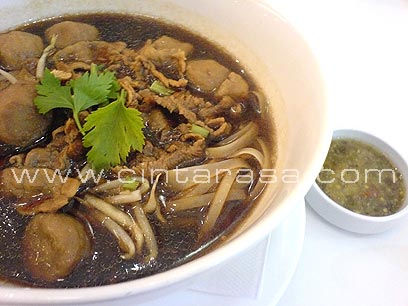 Then as part of the meal set, I had Vietnamese beef noodle. I still couldn't figure out how they made the green chili condiment. Maybe they imported it specially from Vietnam..haha!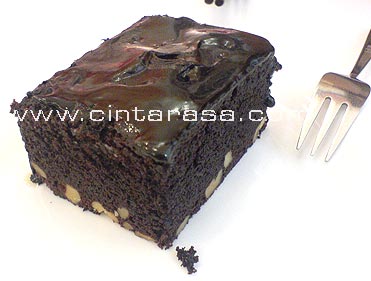 As usual I hardly eat the brownies that come as part of the meal set. I think this one is American brownies. I rather eat moist chocolate cake than brownies. Sorry brownies lovers out there, I just don't share the same preferences as yours.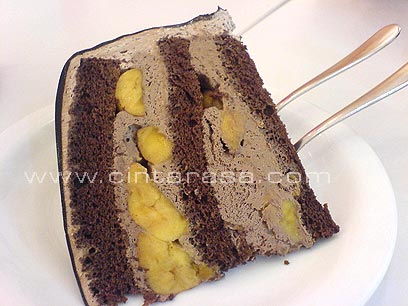 Instead I ordered their famous Choc Banana. Never know that banana will taste that good in cake because I hate the normal banana cake. Must ask what type of banana they use in their cakes. Maybe it's Pisang Montel, what do you think?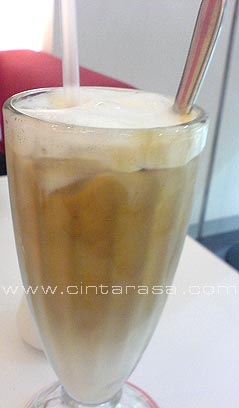 Lastly, Hubby had one coffee..huhuhu..I forgot what type of coffee is this..is it Latte? I don't drink coffee so I have hard time differentiating all type of brew. Well, I'll check out the coffee guides I collected from Starbucks again later, OK!
(Thanks to Hubby for his Sony Ericsson K750i, I didn't bring my Sony T30 so I have to be satisfied with the quality of the pictures this time.)