If you have been to Kuantan town in Pahang, or any town in Terengganu, you will noticed that this soupy dish is very common. It's called singgang. And their famous fish would be the ikan tongkol (some sort of mackerel) or ikan aya as the locals there call it.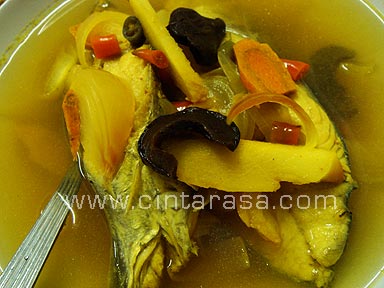 It's so simple to cook, you just throw everything in the pot and let it boil. See the orange slice -that's turmeric (kunyit) root, and then the yellowish one is galangal rhizome (lengkuas). The black slices should be asam keping. Slice together with the red big onion is a few bird eye chili. Oh, don't forget a little bit of belacan. Salt and sugar to season.
I don't use ikan tongkol for this one. I use tenggiri instead, I think it's one type of mackerel as well.