Don't know what to make for dinner during rainy day? Still have some leftover yong tau foo you bought at the pasar malam yesterday?
Try my simple recipe. You don't need to have a degree in culinary art to prepare this simple vegetable soup.
What I do is to check whatever I have inside my fridge and try to make out a decent meal out of the ingredients. That's one aspect of frugal living as well, haha!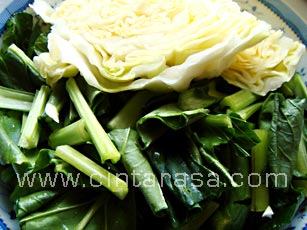 First I noticed that I still have a quarter of the Beijing cabbage and a few stalks of the green sawi. Cut them any size you like, but I prefer bigger chunk to make it easier to scoop them from the onion. (Oh, I despise onion but I still use them in my cooking)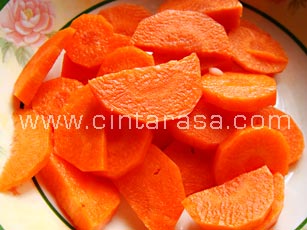 To give some color to my vege soup, I cut half a stick of big carrot. I know you can cut in different shape and decorative angle, but this time I just want to eat my dinner fast. Plus with this shape, the carrot will soften faster in the hot soup.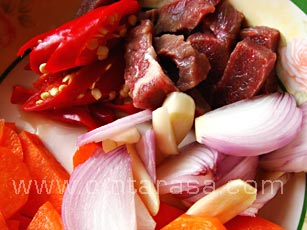 Then to put in the hot oil, is the rencah. Big onion, garlic, red chili and some red meat (you can opt for chicken or shrimp).
Fry them until fragrant then put 2 bowls of plain water. Dump the carrot in first because it takes longer time for the carrot to soften compared to the leafy vegetables. Then when it's boiling, put the sawi and cabbage. Add garam kasar and a little bit of sugar for seasoning.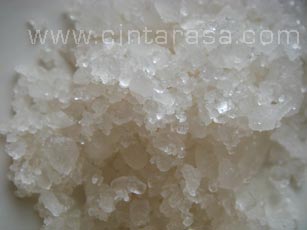 This is how garam kasar looks like. I think for me, this is the secret to tasty cooking. I rarely used the table salt in my cooking because if you use too much, it will turn your dish into some bitter salty taste. Use this instead and you can be sure that your cooking will be superb (provided you know how much to put, that again is the power of daily cooking and practice..haha!)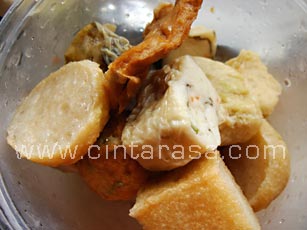 Oh, the yong tau foo leftover which has been kept in the freezer since the night before. Put them in the soup as well. The fish ball will be swollen in the hot soup in no time. Make it looks like you have a lot in the pot..haha!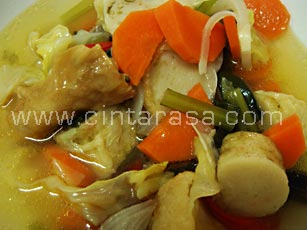 And this is the final product of fast and easy cooking. One sup sayur ready!