Went to this place in March. We were running out of ideas where to eat at The Curve, Mutiara Damansara. Marche was full with people and since we already had like 3 times dining experience there, we thought we should try something else.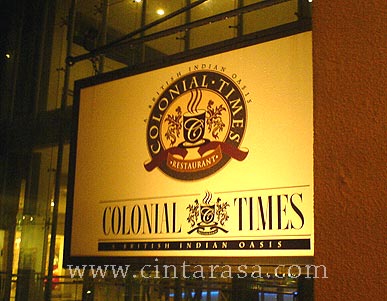 The place was nice. We had the table outside since the inside was more for people who like big TV screen. It was football season so most of the football fans were having good time dining while watching the match.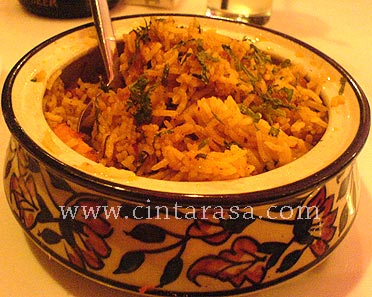 Hubby decided to try their beryani and I could vouch to say that it tasted just great. I liked the pot that it came within, very colorful and pleasing the eyes as much as the taste buds. I think if you are not a big eater, you can share the beryani for two people.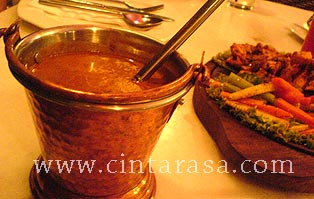 To go with the beryani, Hubby ordered this dhall. Was it curry? It has its own name and as for the pail it came in, I just liked it so much. It was like a mini pail and I think you can share that whole pail of dhall with 3-4 people. I dipped the bread I ordered with the dhall and it was awesome. I will surely have that again next time.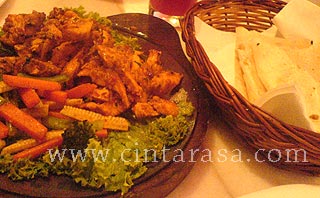 The set that I ordered has spicy chicken with vege and bread. The bread looked like chapati but it was not. Maybe it was a different type of Indian dishes than the one that we used to have at Mamak restaurant. You can really taste the spice inside the chicken and when I ate the chicken with dhall and beryani..huhuhu..what a hot combination. I love it!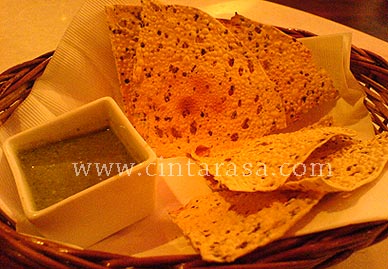 But of all the dishes, my personal favourite was this papadom. It was served as snacks while waiting for the main order. It was totally different than the usual big papadom I had before. Their papadom seem to have all kind of spices that gave more oomph to the taste. And I definitely like the coriander dip that came with it.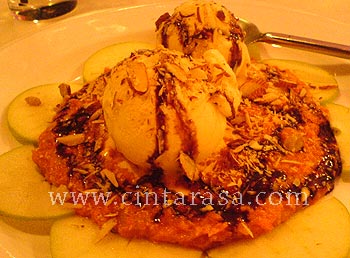 To wrap it up, I had this Indian desert. I can't even remember the name now and I've lost the receipt. It's got something to do with carrot and of course that 2 scoops you see were ice cream. But I don't really like the taste of cinnamon it has. I never like cinnamon bread either so Hubby said it's not the desert fault, it's just not my preference..haha!
Overall I think I really like this place. Maybe next time when I could wake up a little bit early on weekend, I might try their banana leaves lunch buffet. And they do have their own Colonial Times website. Check it out.