If you are foreigners and planning to come to Malaysia (hey, it's Visit Malaysia Year 2007, ok!) make sure you try this burger ayam special sold at the roadside stall.
I mean this really by the roadside stall, not any burger sold at big restaurant and fine dining eateries..
Some people think it's weird that Malaysians eat their burger with mayo, chili sauce, raw big red onion, shredded cabbage and carrot, pieces of lettuce, cucumber, tomato and some even put a piece of sliced pineapple.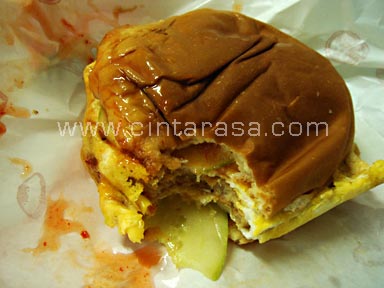 So to all my readers, what I'm sharing in the picture above is the burger ayam special ( I was starving and straight away have a bite when I remembered that I want to take picture).
It is sold for RM2.50 at the stall nearby my house. They fry the chicken burger, and then when it's done, they fry an egg like omelette and put the chicken burger inside the omelette and wrap it nicely.
Of course they will put some seasoning like Maggi seasoning soy sauce, white pepper and sometimes Lea & Perrins sauce on the chicken burger and the omelette.
Occasionally when the mood strikes, I think this burger jalanan taste better than the one in Mc Donalds.