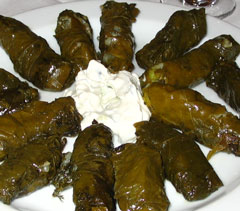 There is new channel on Astro that shares about food – Asian Food Channel (AFC). There was one particular show I happened to watch the other day about a Greek restaurant that serves dolmades – delicate parcels made from grape leaves (also known as vine leaves) stuffed with long-grain rice, toasted pine nuts, fresh herbs and seasonings. Now this reminds me of ketupat that we serve over here, but instead of plain rice we sometimes use glutinous rice wrapped in daun palas – young leaves from coconut tree.
I'm not sure if you go on tour to Greece, you could find authentic traditional cuisine such as dolmades in Athens hotels or any other Greece hotels. But if I were to take such tour I would love to try real Greek flavour like hummus and such ( I've tried Greek Salad but one without feta cheese, not sure whether there is a Greek restaurant in KL, though!) With all the tiring Athens tour to historical sites like Acropolis and Temple of Olympus, it will just whet my appetite to try their local cuisine.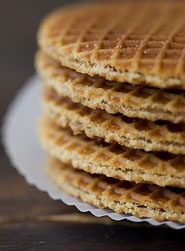 And while browsing a friend's fotopages the other night, I saw pictures of her trip to Prague. It was such a magnificent sight – the Prague Castle, Mala Strana and St. Vitus Cathedral just to name a few. For those on vacation in Prague, hope you will have great Czech food such as knedlik at the Prague hotels you are staying. Dobrou chuÅ¥ and make sure you snap as much pictures as possible of all the medieval places you manage to visit.
Oh, anyone in Amsterdam at this moment for work or on vacation, could you please check whether the Amsterdam hotels gift shops which you are staying do sell stroopwafel. I heard it is one of the best selling food at the Schiphol airport as well. I would like to have one pack if you wouldn't mind buying for me, I'll pay the price..heh!