I was wrong in thinking that Gravad Lax is smoked salmon..huhu! Nevertheless it is still good if you like raw fish cured in herbs (dill to be exact), salt and sugar. When eaten together with the salad greens, dip in the dill and mustard sauce, (of course my advice would be to squeeze that piece of lemon on your salmon), the thinly sliced salmon will just melt in your mouth.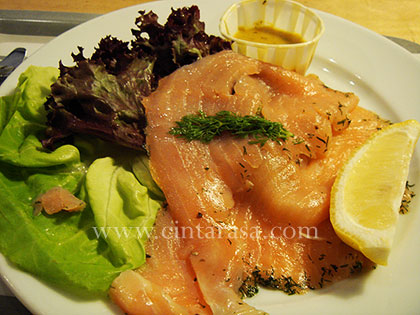 Hubby find it very gross to eat such raw fish and it kind of reminds me about Umai.
I guess I still have to find some place that serves good smoked salmon. Last time I saw Marche do have them as salad. Another trip to The Curve later, maybe..hehe!