There are times when I yearn for simple lauk kampung style of food. It's great to dine out once in a while, try new place, new dishes but nothing can beat the taste of simple food cooked at home.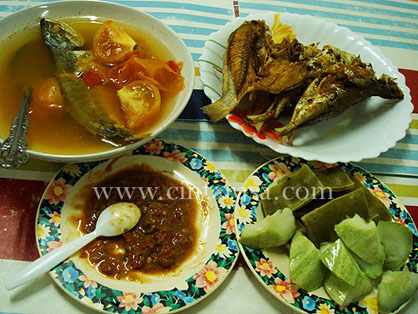 So here is pindang ikan, ikan masin goreng accompanied by freshly pounded sambal belacan eaten with ulam timun and petai rebus..heh! I fried some fish as well since Hubby doesn't really like the fish cooked in pindang as lauk with his rice.
Actually I would like to have sambal belacan with pelam (mango) instead of the usual limau kasturi but since Hubby couldn't find mango at the local groceries store, this usual sambal belacan will do.
The verdict, one whole pot of rice was gone and all the petai rebus licin..hehe!