This is my first time dining at Bistro Delifrance in Sunway Pyramid after many, many years. We used to dine there several times but before the outlet has been upgraded to Bistro. One thing I noticed the Bistro tend to have everything overpriced..huhu! So since we would like to have lunch cum tea at some peaceful, not overcrowded place (other outlets were full with children, school holidays, huh!), we decided to try Bistro Delifrance.
First of all the menu was rather extensive compared to the normal Delifrance outlets. Hubby would like to try their baby back beef ribs but looking at the price, he rather has it at Steak house next time..heh! So we ended up ordering the usual chicken delight croissant sandwich.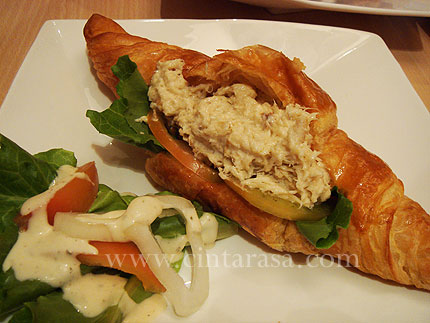 Hubby ordered the ala carte so his didn't have soup of the day. Mine came with soup, I think it was mushroom but too much onions which really turn me off.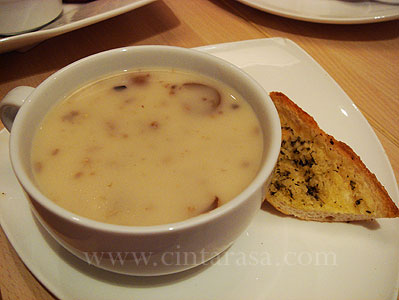 Since the price for their drinks were not that cheap, Hubby decided to try this French Apple Soda instead of the usual carbonated drinks. But I just ordered the usual ice lemon tea.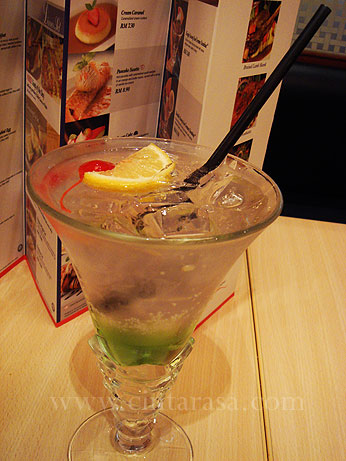 The best part of the day would be this marvelous wedges served with BBQ sauce.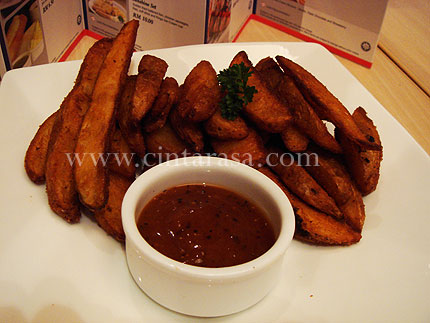 We had fruit tart and blueberry tart for desserts but I forgot to snap the pictures..heh! Overall, not really a place I would like to dine in again but the food served was enough to fill up my tummy before watching movie The Golden Compass.