If you are a spicy food lover, try to cook this sambal ayam. It is one of Hubby's favorite dish. And for me it's quite easy to cook. What you need to do is fry the chicken pieces first which have been marinated with garam kunyit (turmeric powder and salt) and set it aside.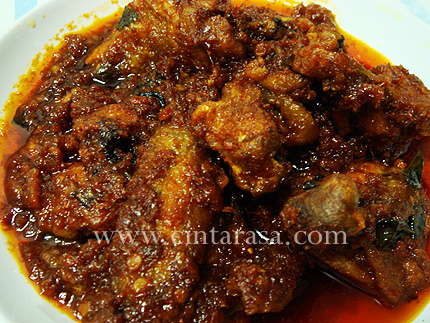 Next you boil dried chili which have been cut into pieces. Slice big red onion and ginger. Then you have to blend all the boiled chili, onion and ginger (add water if too thick) until it becomes a chili paste.
Heat the oil, put the chili paste in. Add in curry leaves and let the chili paste fried till fragrant. Add sugar and salt to taste. Put asam keping in. Lastly when the taste is just nice, put in the fried chicken. There you have your sambal ayam. Easy, huh!
If you prefer fish to chicken, you can substitute the chicken pieces with fried fish.