I was in Jalan Tuanku Abdul Rahman last Saturday to do some craft shopping when it started to rain very heavily. Luckily Hubby was with me to carry all the stuffs. After like 20 minutes being stranded at the shop corridor, we decided to run in the rain to Semua House.
We bought 2 umbrellas at Watson and despite the initial plan not to check out the pasar malam, we ended up eating this laksa buyung.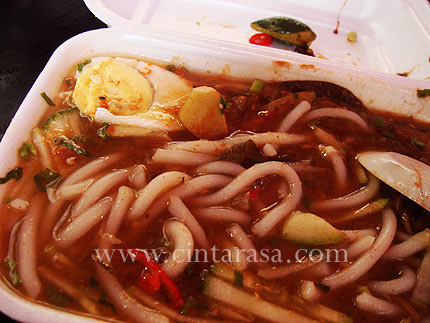 For RM2.50 per pack, it was such a bliss to slurp something hot and spicy in the rain. The stall is the one next to the Rojak Singapore stall (check previous entry : Rojak Singapore @ Pasar Malam Jalan TAR, KL). Although they no longer use buyung (clay pot or pot with round shape bottom) to cook the kuah laksa, it's still as good as the traditional laksa buyung I used to eat.
Next time if I ever get stranded in the rain in Jalan TAR again on Saturday, I will surely eat this laksa. Oh, make sure you add in otak udang (shrimp paste) to get more oomph in your laksa..heh!