I have always been a big fan of Nandos, be it the chicken set or the beef menu they have. I have tried most Nandos like the one in Subang Parade (the first place I tried when it was newly opened), the one in Sunway Pyramid, Nandos Mid Valley, Nandos Mines and even the one nearby Puduraya..heh!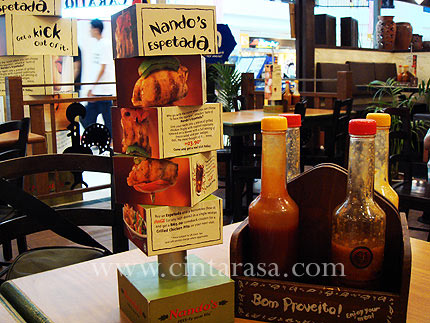 This one was taken in Nandos Subang Parade last year when they have the Mexican promo ( was it Mexican? now I can't really remember) but it was some kind of promotion that time.
I think tomorrow I will have Nandos as well. It's been quite a long time since my last Nandos chicken trip in Mid Valley.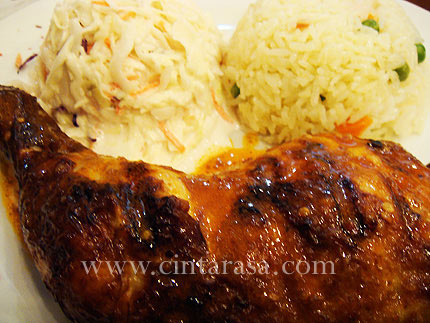 Usually I will order the set with hot peri peri sauce. But when I eat, I will choose the extra hot peri peri sauce to add on the chicken while Hubby prefer the one with garlic, yikes! I love their coleslaw because it doesn't have onion. Between rice or fries, I will go for Nandos rice.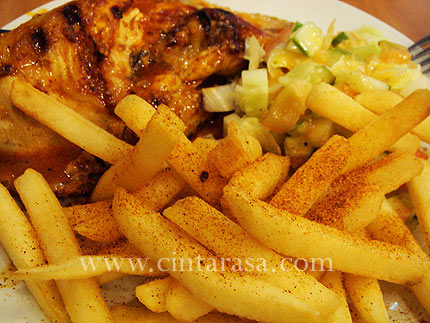 This was the set that Hubby ordered that time. I think this comes in the promotion. See the Greek Salad, I love it too. You can also take the free refill – eat all you can bread and soup menu. Their soup is kind of spicy and their garlic bread is good (lots of herbs and the garlic spread is very nice).
Oh, for drinks I recommend Sparkling Apple though now I know that they are using Fruit Tree apple juice with aloe vera. I think I really must go and have Nandos tomorrow..my stomach is grumbling after seeing all these pictures..huh!