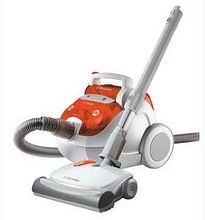 If there is one thing that I don't like about cooking, it will be the cleaning task after that. Of course when you are cooking oily dishes there will be oil spilled and popping from the pan everywhere and it won't be possible to clean by vacuuming even using the Electrolux vacuum cleaners (one example is the bagless vacuum cleaner like in this picture).
However if you are thinking of buying vacuum cleaners you can either choose the bagged vacuum cleaner or the bagless like mentioned earlier. Personally I would prefer having bagless as there is less risk if the bag for the vacuum is no longer in production. Of course there is canister for the vacuum to suck and keep the dirt and grime, you just have to take out the canister to clear it up and put in back to do the vacuuming.
Now come to think of it, it's been ages since my last vacuuming routine for the living hall carpet..huhu! Anyone would like to earn extra money, come help me do the cleaning, I'll pay by the hour. Don't worry I have bagless vacuum eventhough it is not Electrolux brand..heh!