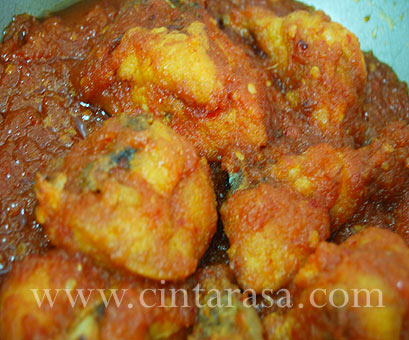 I fried some chicken pieces to eat with the fish curry last night and today I was thinking what to cook with the fried chicken leftover?
Then I saw the ripe pineapple in the kitchen which was meant to be cooked with the crab (entry about sweet sour crab later), and I thought if I add on more chicken pieces (which I have to fry before I cook this), I could make either masak tomato or ayam masak merah and use half of the pineapple to make acar timun and nenas..hehe!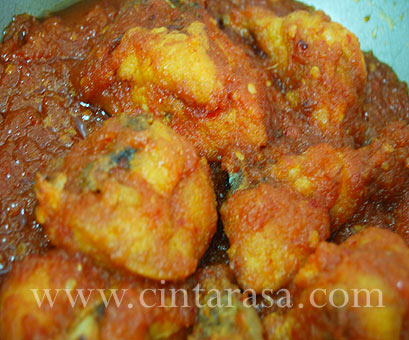 So here is the result of the fried chicken leftover. I'm not sure whether this is ayam masak tomato or ayam masak merah, it has a little bit of both. There was some chili paste already blended in my fridge, which already have some onion and garlic in it, so I blended a ripe tomato, one red chili, some big onion and ginger and fry them altogether with the dried chili paste.
I added in Maggi chili sauce, vinegar, sugar and salt to taste and this is the final result.
Now I have to wait for Hubby to come home and give his star rating..heh!