I went out for groceries shopping and was thinking to concoct a different dishes than what I used to cook everyday. I saw the crabs and a pineapple and thought a sweet sour crab would be nice. I usually put tomato slices in the sweet sour dish but since there was abundance of pineapple, (must be for Chinese New Year celebration), I should give a chance.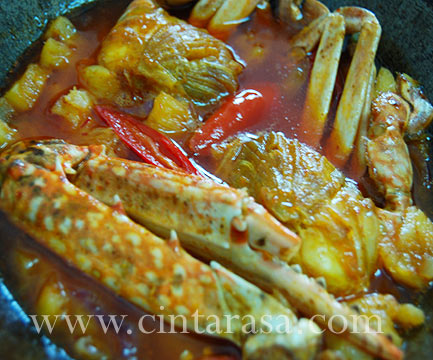 Since the wet market lady already cleaned the crab for me, I marinated the crab with turmeric powder and salt. I fried it and put it aside. I simply sliced the big onion, red chili and garlic. Usually for a spicier taste, I fried the onion with chili paste but since I was lazy to blend a new batch, I just cooked without it.
I used Maggi Chili Sauce and add in the pineapple slices. Now I know why I hardly buy fresh pineapple for cooking, it takes all effort to peel of the thick skin..huhu!
Nevertheless the ketam masam manis turned out just nice, though I still prefer the spicy version. The pineapple in the gravy gave out too much sweet and sour juice which I think will be great if you are serving this dish to kids or people who dislike spicy dishes.