We have been trying to stick to more healthy diet (less oil, no fat) with no avail. This time for the second attempt I managed to get it last for almost 2 weeks..heh!
This ikan cencaru has been oven roasted for about 30 minutes with no salt or seasoning. I think this style of cooking is also suitable for those in confinement. But of course with confinement, not everyone can take certain type of fish, which some people said will make the wound itchy. No idea on that as I never been in confinement before..heh!
If you like you can pound black pepper and ginger to marinate the fish before you bake them.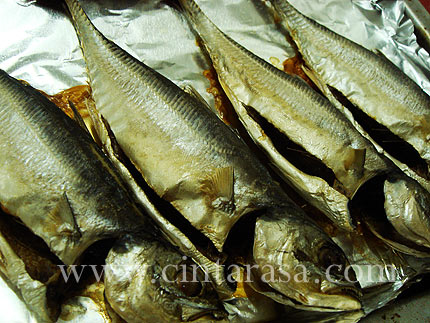 I make this sambal kicap to cicah the baked fish. Slice big onion, red chili and the fiery bird-eye chili (cili padi) and mix with the soy sauce. I use Kicap Tamin. To get the sourish taste, I squeeze about 2-3 calamansi (limau kasturi). Let it marinate in itself for about 10-20 minutes before you dip in the fish. It gives extra "kick" to the otherwise bland cencaru bakar..heh!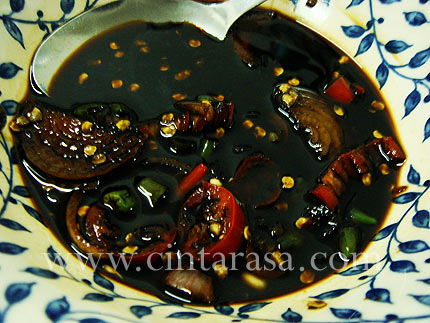 Since you wouldn't want your meal to be too dry, you can make this sayur air. I think for those in Malay confinement you are not advised to take too much watery dishes in your meal, so you can just eat the vegetable leaves for fibre intake.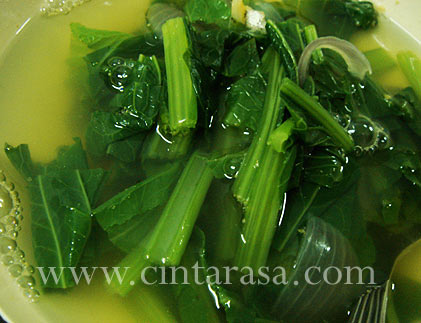 I prefer sawi to make sayur air as it is not very bitter. There's 2 types of sawi – the one with yellow flower usually is more bitter than this one. I usually buy the organic or compost grown sawi in Jusco. I boil the plain water, with sliced onion, a bit of belacan for seasoning and dried anchovies before I put in the vegetables. Add in sugar and salt and it's ready for a healthy and simple meal.