Don't adjust your monitor resolution, this dish is really that red…heh! I've been trying to find the exact recipe on the net for this so called beef steak kuah but to no avail.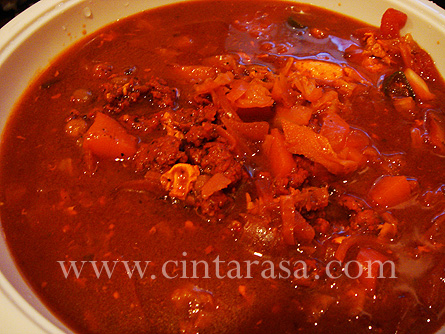 What I managed to read is about Soup Tulang in Haji Kadir-M. Baharudeen Stall, Golden Mile Food Centre in Beach Road. I think it is cooked the same style except this beef steak uses minced beef and that one use mutton bone marrow. Well, if you think it's disgusting, read what Anthony Bourdain wrote about it here – Off the Eatin' Path.
This Beef Steak Kuah was bought at the Geylang Serai Market & Food Centre at one of the Indian Muslim stall nearby Hajah Mona Nasi Padang (sorry I couldn't remember the signboard but the picture was in my another hard disk). If I ever go to Singapore again, I will surely eat this beef steak kuah again..tell me about craving..huhu!