Ever noticed that if you buy nasi tomato set, there will be some kind of vegetable dish like acar nenas to accompany the set.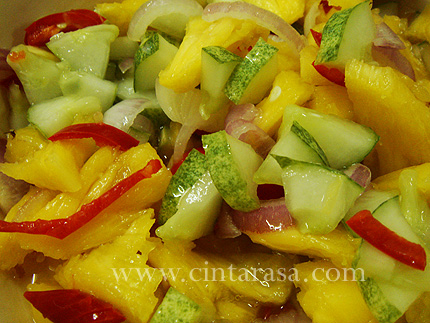 I think acar nenas is more like a pineapple salad and not pickles. I say this because acar means pickles, translated literally.
To make this acar nenas/ acar timun is very easy. You can slice and dice both the pineapple and cucumber any size you like, add in sliced red chili and big onion.
Then for seasoning, I use cooking vinegar, salt and sugar to taste. Toss it all in the bowl and check whether it has all the sour, sweet, salty taste.
Usually for this kind of dish, you won't eat it straight away. Keep it cold in the fridge for 10-15 minutes before you serve as part of the nasi tomato set.