I still have a few more pictures of food savored in Singapore so I think this one sounds interesting. Well, at least for me. When you heard about carrot cake, what do you have in mind? I thought it's the typical cake sold in bakeries, the one with grated carrot and walnut but actually this carrot cake a.k.a. Chai Tow Kway is part of Singaporean breakfast menu.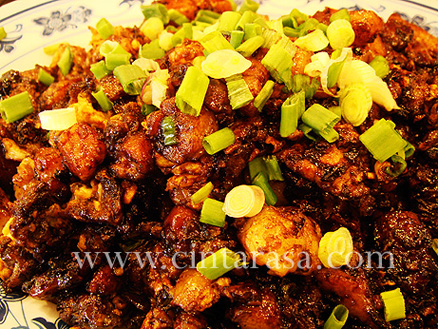 It is made from rice flour and 'white carrot', or radish, which is quick-fried with soy sauce, eggs, garlic and delightful bits of pickled radish (chai poh). It comes in 2 versions – black or white. The hawker at the Banquet (halal food court in Singapore) asked me and I quickly answered black (though I didn't really know the difference). Later I found out that the black version is fried with sweet black soy sauce while the white one without the black soy sauce..heh!
If you are not into spicy Malay food you might like it. For me, I find it very bland but it was good to try something new in foreign land..heh!