After a few long weeks of morning sickness, I finally have the energy to concoct something pretty hard, well considering the effort to pound the spices and blend the dried chili..heh!
Anyway since I am not really into asam pedas tumis I made this asam pedas rebus using ikan kembung and bendi for myself. I know the color of the asam pedas was not really a yummy turn on but it does taste OK for my taste bud.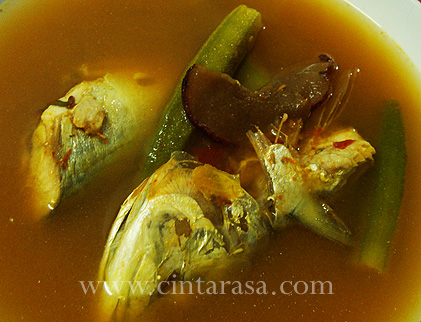 I decided to omit tomato and just use ladyfingers as the vegetable for this asam pedas rebus. Since I bought daun kesum at Jusco to add in the asam pedas tumis, I just use some for my asam pedas rebus. It does add the flavor and the smell of it, well you know like the one you smell in asam laksa.
For Hubby as per his request, I made this asam pedas tumis ayam, note to myself, next time let the chicken simmer longer in the kuah especially the drumstick part. Perhaps the chicken pieces have been frozen too long, well I think I bought it more than 3 weeks ago before Hubby went for technical training in the US.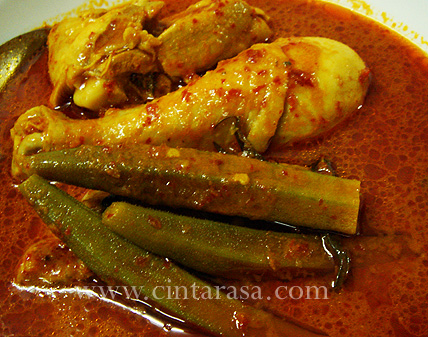 I put ladyfingers as the vegetable though I prefer if the asam pedas tumis comes with sayur jeruk. Some call it sayur asin, it's like big cabbage which has been pickled in salt. I think Chinese have this all the time.
Regardless the fact that the chicken was not really empuk ( I hope Hubby won't be having food poisoning tomorrow), the addition of bunga kantan and daun kesum did cover the imperfection of my asam pedas ayam..huhu! Next time I will do better, maybe a quick boil of the chicken before I fry the blended spices will be the cure to the problem..heh!