As I just came home from a 5 day trip to a wedding in the East Coast, I found out that I have nothing in the fridge to cook dinner.
On the shelves, I have a small tin of Ducheff tomato paste, a tin of tuna flakes in oil (which I intended to make into sandwich filling but never do), Italian Herbs brand Mc Cormick and some pitiful looking Angel Hair pasta of San Remo (which most of it has been ravaged by grain weevils..huhu)
Since I have frozen button mushroom from the time I made omellete and few too ripe tomato in the fridge, I decided to make tuna spaghetti.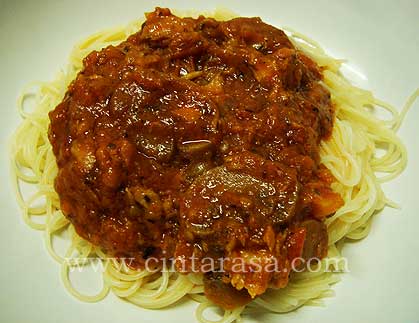 So here is the outcome of the whatever stored food I have. I ate this portion of pasta and for Hubby's dinner, I boiled macaroni since there was no more angel hair pasta that has not been eaten by the weevils.
Nevertheless Hubby said the tuna spaghetti tastes as good as the usual beef bolognaise I made. Maybe once in a while we can opt for tuna instead of beef or chicken..heh!