I realized that I only have prawns in the freezer and since I already blended dried chili with belacan, onion and garlic the day I made sambal tumis bilis for nasi lemak, I decided to cook sambal tumis udang.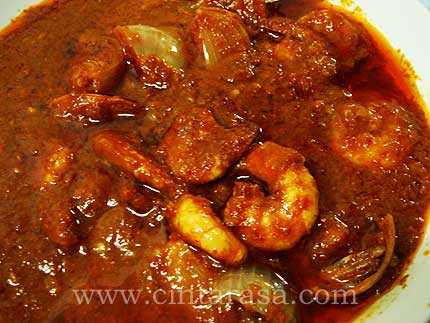 There is another version which you put coconut milk in the gravy, perhaps to add on more flavour to the sambal tumis. But since I've never tried that, I just stick with the normal sambal tumis method of cooking. Actually I prefer sambal udang with petai but since I don't have petai in stock I just add in big red onion to the gravy, to give the extra sweet taste to the sambal.
Somehow this time the prawns seem to be very salty, not sure why though, maybe I added in too much coarse salt or the belacan I blended overwhelmed the whole dish. The gravy was fine, only the prawns were too salty.