The first time we tried their pancakes was like a year ago..(December 2007)..heh! Since I would like to blog about my recent trip to the outlet, I feel that I should blog about the first trip as well, just to compare and review a year's differences..heh!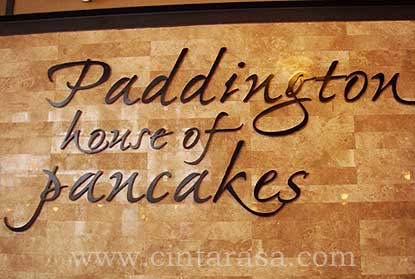 OK, here is the picture at the back of the outlet. We decided to have seats outside while enjoying their iced coffee and pancakes. It was quite packed since it was weekend. Mind you that the price for their pancakes and drinks are quite steep so if you have about RM50 to spend on dessert, you better make sure you order just in the range of that price.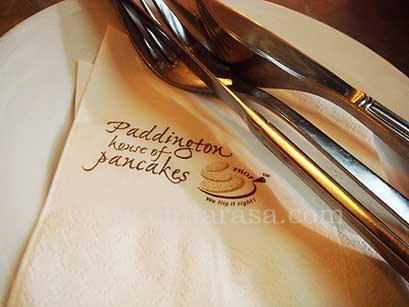 The first thing that amazed me was their extensive menu which looks more like an album or photobook. They serve more than 100 types of pancakes from all the world, including pannekoeks, galettes, American stacks, poffertjes, blitzes, blinis etc.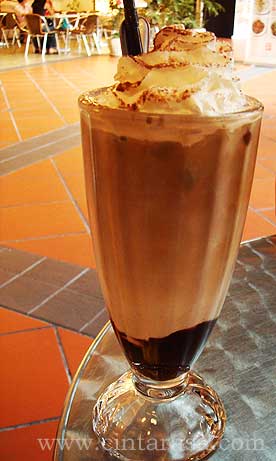 So after browsing through the exhaustive list of pancakes and drinks, Hubby decided to order their iced latte (Was it latte or chocolate? It's been a year and I can't really recall it) and I tried their hot chocolate with marshmallow.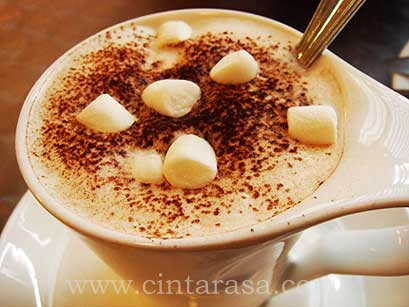 I think this is what they call as Treasure Box, with dollar pancakes served with ice cream, syrup and varieties of fruits. I was not really into sweet dessert but it did look good when they served me this..heh! In the end, Hubby helped to finish it all.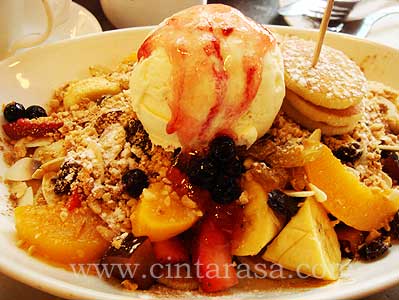 I kind of like their small flag on top of the dollar pancakes. During my recent visit, they no longer put the flag. I think for those with sweet tooth, you will enjoy the trip to PHOP.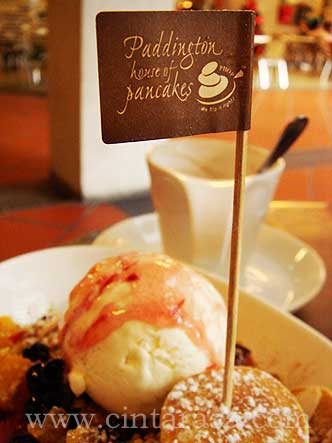 Check out my next entry for trip made in 2008. See whether you can note any differences in term of serving, table layout etc.