I usually cook this dish whenever I have some leftover of fried fish.
It doesn't matter whether you are using kembong, tenggiri or jenahak (which I am going to try tomorrow), masak cuka will taste much better if you eat it 2 days later.
I think it's because after 2 days, the white vinegar, all the herbs (pounded jintan manis, ginger and biji sawi) and vegetable taste will blend in nicely in the broth..heh!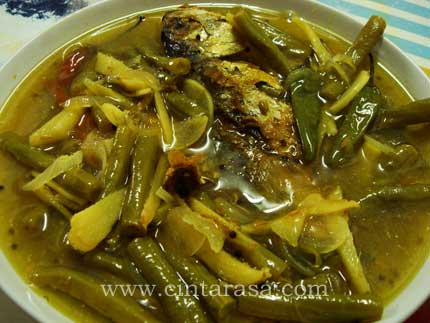 Sometimes when I have kacang panjang (yardlong bean or snake bean) in the fridge, I will put them in as well but you can opt for cili padi, cucumber or red chili as part of the vegetable in the dish.
Actually if you go to the Northern part of Peninsular Malaysia, this dish is quite common. Of course those sold there won't be quite lavish with the ingredients. They usually throw in peeled but uncut shallots and garlic apart from chili.