I made this before Hari Raya last year by request from Hubby. I bought the ready made Raya cookies but he finished up biskut mazola and felt like eating some more.
Since I was in the mood to bake, I searched for the recipe online and found this in a cooking blog of a Malaysian in Germany – Zara. I copy and paste the recipe here for easy reading and future reference (in case I want to make another batch for Raya this year..heh!)
Thanks Zara!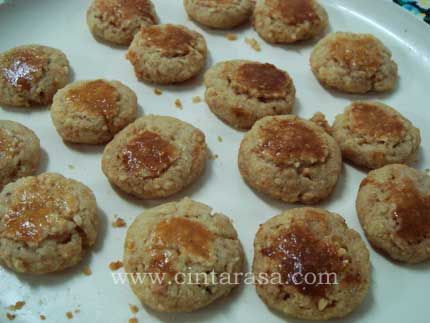 Biskut Mazola
4 cups wheat flour
2 cups sugar
3 cups ground peanuts (to be roasted in a pan without oil first, and then to be ground without water)
NOTE – Don't grind all the peanuts to a powder, but grind most of them to a powder, and some of them to small pieces. And once you bite into a peanut piece, you"ll be pleasantly surprised)
1 egg yolk
1 teaspoon baking powder
1 teaspoon vanilla essence
1 1/2 cup sunflower or mazola oil
2 egg yolk (for glazing)
About 50 halved peanuts (also roasted) for decoration
How to make it:
Preheat the oven to 150 C.
Mix the flour, sugar, ground nuts, baking powder, egg yolk and vanilla essence with a wooden spoon.
Pour in oil little by little and knead until a soft dough is formed.
Spread some flour on a table surface or board to avoid sticking. Take a rolling pin and roll the dough on the table to about 1 cm thick. Don't worry about the dough being crumbly, it's supposed to be. Take a knife and cut the dough into 2cm by 2cm dimensions. Well, you can also use a biscuit cutter, but since I don't own any…
Grease a baking tray and arrange on the baking tray.
Brush the surface of the biscuits with the egg yolk and press in half a peanut slightly.
Bake in the oven for 10 to 15 minutes or until done.
---
Since I am very bad in rolling and cutting dough, I decided to use my fingers and shape my biskut mazola into round shape hence the picture you see above..hehe! It tastes just as good though lack of nice visual presentation..huhu!
I cheated with my recipe as I didn't put any peanut on top of the biskut mazola. I was too lazy or rather too tired..but I did apply the yolk on top of the biscuits. God! It took ages to finish up all the dough into that small round shape, no wonder they sell Raya cookies so expensive these days..heh!