My in law family call this dish ayam bumbu – bumbu means rempah in Indonesian. I call it ayam goreng berempah since it has all kind of spices marinated and fried together.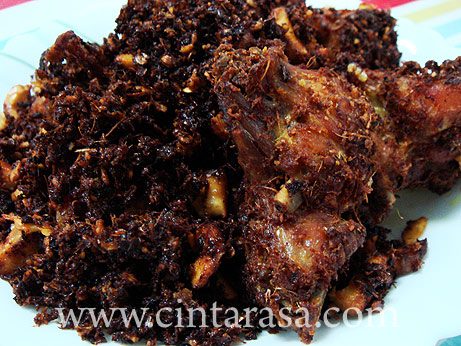 It is very simple to make. You just have to slice and pound or blend all the spices together – serai (lemongrass stalks), lengkuas (galangal), halia (ginger), kunyit (turmeric), biji ketumbar (coriander seed), buah keras (candlenut), lada hitam (black pepper) and if you like it spicy, put in cili padi as well. Make sure you marinate the chicken with salt as well ( I usually add in a little bit of sugar to balance all the spices)
I prefer to keep it marinated overnight so that by the time I want to fry the chicken pieces, the spices blend well into the flesh..heh! Oh, if you like the crunchy taste of candlenut when you eat your ayam bumbu, don't blend them too smooth, or perhaps you can cut the candlenut into bigger chunks and fry them together with the chicken.
It's great to have hot with nasi ayam or nasi lemak kukus!