There are many versions of curry, some cooked with coconut milk, some with just the tamarind juice and the curry powder. In certain states in Peninsular Malaysia it is called gulai rather than kari, but for certain people in East Coast of Malaysia, gulai is another dish cooked differently – something like gulai kawah, or gulai ikan tongkol. For "negori" people, gulai is more like masak lemak kuning with cili padi.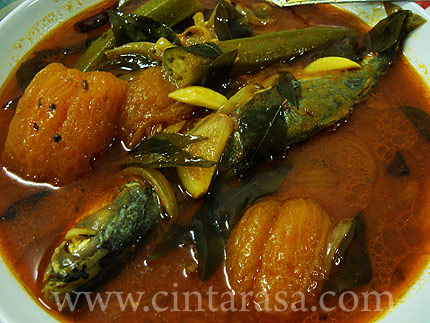 What I'm sharing here is my version of fish curry, cooked without coconut milk. Some says it is the Indian style version of cooking curry..heh! I used ikan kembung (Indian mackerel). Of course you can use all kind of fish as you like – bawal, tenggiri, jenahak, ikan merah. Oh, I used serbuk kari Babas (Babas fish curry powder) rather than Adabi.
The leftover of the curry can be eaten with bread or some instant roti canai for supper..heh!