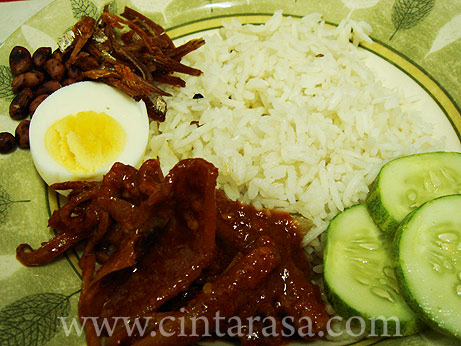 Try Google nasi lemak and you will be amazed to read that it is proclaimed as national dish..haha! Nasi lemak is rice cooked with coconut milk, eaten with slices of boiled egg (telur rebus), fried ikan bilis, cucumber, fried peanuts (kacang goreng) and sambal. Of course there are many version of lauk-pauk to be eaten with the rice.
My personal preference would be sambal sotong kering (dried cuttlefish). Due to the high price of the sotong kering itself, it is quite hard to find nasi lemak stall that has sambal sotong kering as part of their choice of lauk. Not to mention the hours you have to soak the dried cuttlefish (which sometimes prove to be futile since the sotong is still liat like hell!)
For those looking for sambal sotong kering recipe, you can check out this link – Sambal Sotong Kering. Since I never bother to check out my own measurement when I am cooking, I hope Jo Scorpian's recipe will help you..heh!