This year company annual dinner was held in Crowne Plaze Mutiara, KL. The hotel is located along Jalan Sultan Ismail. Taken from website kl-hotels.com:
"Only a five minute walk away are the Kuala Lumpur Convention Centre, the world famous Petronas Twin Towers, Suria KLCC & Pavilion shopping centres, Malaysia's largest aquarium Aquaria KLCC and Kuala Lumpur's hottest nightspots & eateries on the streets of Jalan P Ramlee & Bukit Bintang. The Raja Chulan monorail station at the entrance of the hotel ensures quick access to other parts of Kuala Lumpur."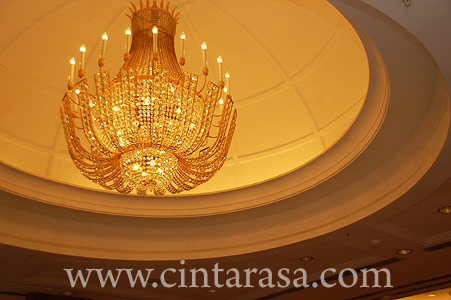 I was busy with the little one to actually take a picture of the ballroom that the annual dinner was held. You have to be happy with this chandelier picture for now..heh!
Due to tight company budget, the selection of the food was not that wide. But they did have vegetarian and non vege spread.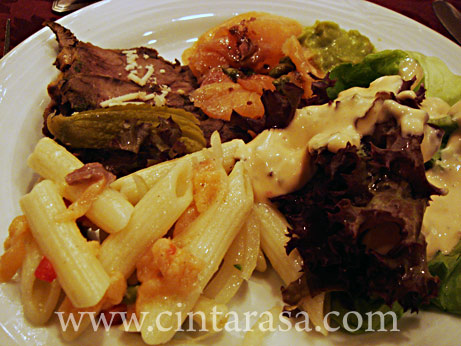 Their salad was good. I had 2 helpings of my favorite smoked salmon.heh! Oh, they didn't have beetroot this time. I was hoping for something like what we had in Pangkor dinner..huhu!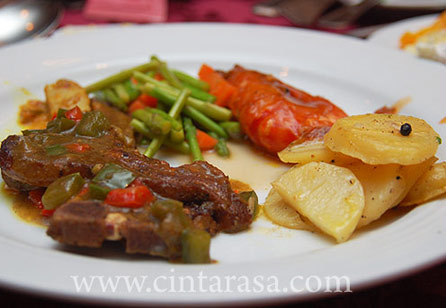 I didn't take rice for the main course. I tried their lamb, shrimp and potato. The vege in the picture was asparagus. Not really up to my expectation but enough to fill up the tummy.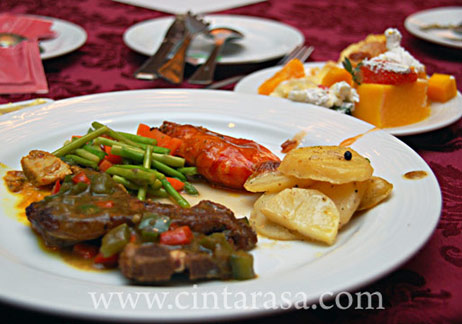 This was taken by Hubby's colleague. I was busy nursing the little one downstairs in the car. Not sure whether they have baby room at the hotel.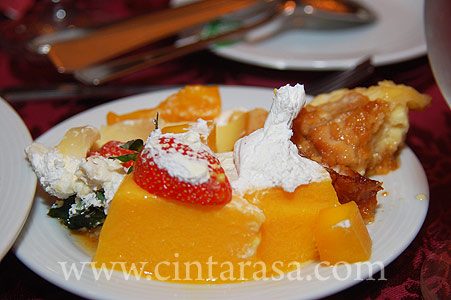 But I did love their dessert. The usual favorite will be the mango pudding. There was bread pudding as well and few other cakes.
Oh, we won RM100 worth of IKEA voucher for the lucky draw. The same guy who won grand prize last year won grand prize again this year – a plasma TV or was it LCD? but from what I can remember the prize is worth of RM5000..huhu!
Hopefully next year we will have better luck..heh!