I was chatting with a friend the other day about what kind of simple dishes we can cook for bersahur.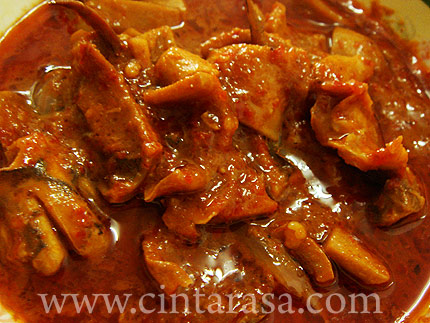 And then I found this picture of sambal sotong kering I cooked more than a year ago..heh!
I think the only setback for me to cook sambal dish very often is the time consuming effort to let the spice cook really well in the pot..huhu!
The secret to great sambal tumis lies in the concoction of the base spice – the well blended mixture of dried chili, onion and good quality belacan (shrimp paste).. and the time and patience you put in cooking it on the stove.
Of course with this dried cuttlefish, you have to soak them for hours.
I heard there is also some chemical to make it soften faster, I think they call it air abu (not sure as I have never tried that). Will have to look for the stuff one of these days so that I can cut down the time spent preparing this sambal tumis sotong kering..heh!