The plan to berbuka puasa in Marriott Putrajaya was kind of last minute. It was Merdeka day, and assuming that most people were not in town as they opt to balik kampung, we called the hotel and placed reservations.
Around 6:50 we arrived at Terrace Cafe and were quickly seated at the corner.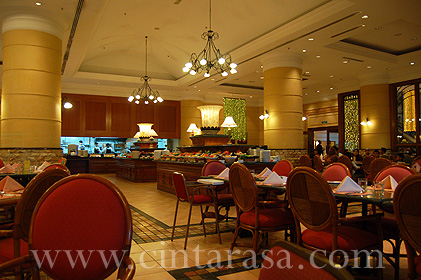 These are the choices of their kerabu and acar. I only managed to try a few to accompany beryani and ayam masak merah I chose as the starter course.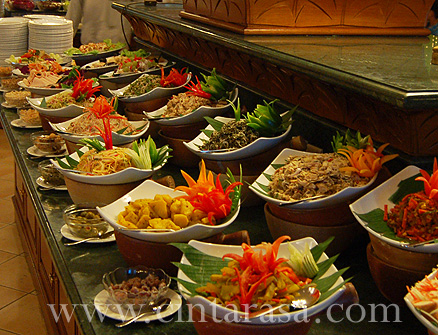 Right at the front of the open kitchen was where they put the main lauk pauk – udang galah, lamb, fish, masak lemak daging just to recall a few.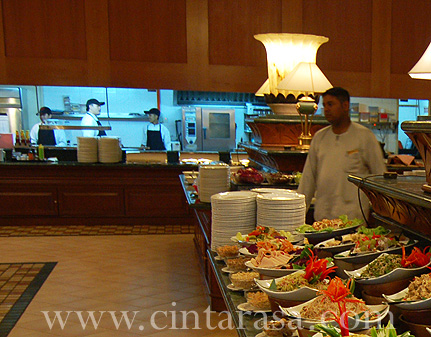 These are their choices of side dishes – tempe goreng sambal, ikan masin, cucur udang, serunding, gado-gado, ulam-ulam..too many to remember..huhu!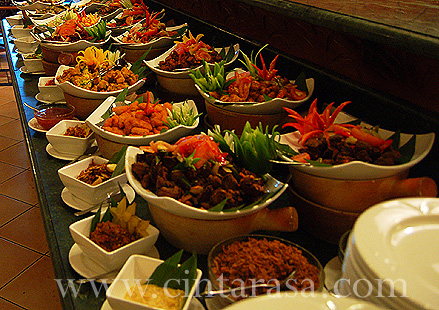 If this is not enough, move your lazy bum and take a walk outside. See the yellow green stalls?
They have Chinese station with dim sum, sup and rebus-rebus, the house specials kawah dishes, 'hentian muara ikan-bakar' station, hawker treats such as sotong kangkong and rojak buah, murtabak, bubur lambuk and nasi kerabu.
Oh,they also have Mexican (tacos, enchiladas), Indian (naan, tandoori, capati) and Japanese cuisine (maki sushi, California maki rolls).
"Among the highlights this year is the much talked about 'Kawah' dishes – daging gulai kawah, ikan assam pedas, perut lembu masak cili padi, kambing kuzi, dalcha tulang rawan, kari kepala ikan and ayam masak kerutup. "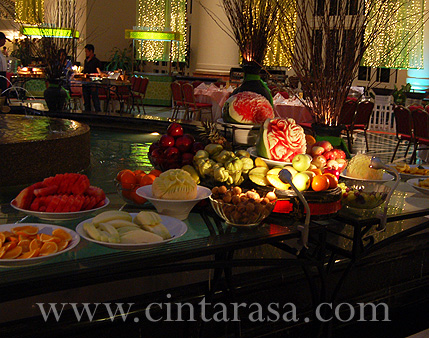 Now that I am writing this entry, I should have tried their 'Kawah' dishes…sigh! Since we were busy taking turns to take care of the little one, we were kind of tired to walk in and out to take the dishes..(and it was hard to juggle a plate full of food with one hand while holding a child in another!)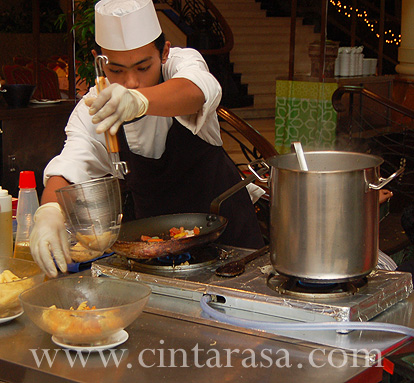 But I did ask the pasta chef to cook for me..hehe! This is the Italian chef in action. They have a la minute pasta station where you can choose the raw ingredients like mushroom, zuchini, capsicum and your choice of pasta to be cooked. They also have bolognaise and carbonara sauce.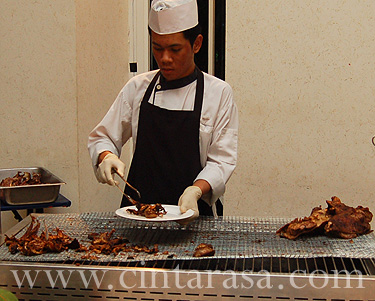 The best dish for me would be this Arabian grilled whole lamb. I should have taken the picture of the whole lamb when I first arrived. It was all gone by the first 40 minutes after berbuka..huhu!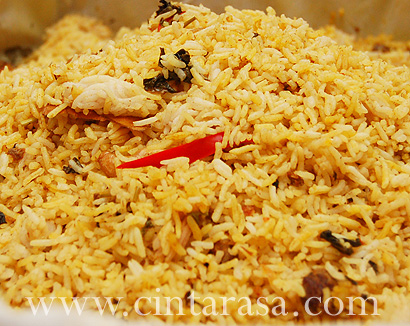 Their dumba beryani. I am not sure whether this is the same as the first beryani I ate inside. But combined with the roasted lamb, they are simply yummy! I chose black pepper sauce and yogurt as the condiment.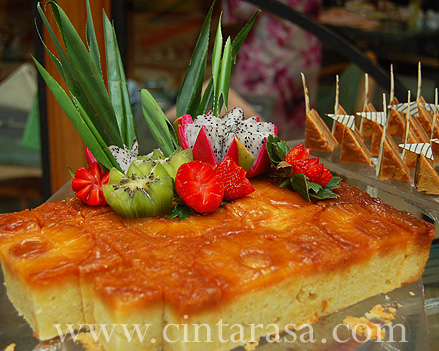 Make sure you try their household special – the IOI Ais Kacang with a wide variety of condiments and much more sweet tooth delights to look forward to. Any child (or parents of a child) will be sugar high with the choice of their condiments for ice cream after meal..heh!
I didn't try any of the local kuih muih, pengat and sweet bubur. But I did manage to grab a fruit tart and a small piece of cake. I just love the way they embellished all the desserts. Enough to satisfy my hungry eyes..heh!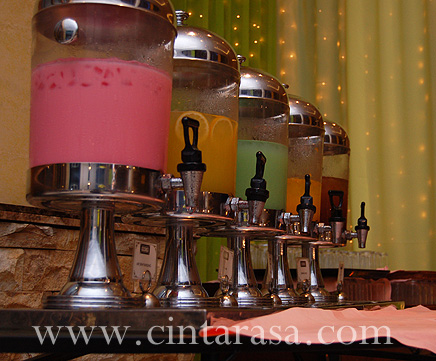 Check out their selection of thirst quenching juices & drinks. I tried their air bandung. We had teh tarik from the station..very nice!! Way to go for Marigold creamer and susu cair Ideal..hehe!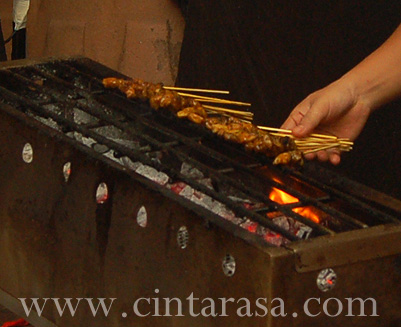 Oh, a must mention 'panggang-memanggang' station that includes chicken and beef satay. Their satay was great. I should have eaten more..huhu!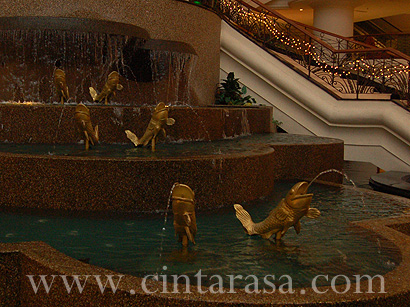 The little one and I took a break at this cascading fountain with gold fish spouting water while listening to the live 'Asli' music. Oh, for the added convenience, suraus are made available for all Muslim patrons' convenience.
This 'Ramadan Seribu Impian Buka Puasa Buffet' @ the Terrace Café is available from the 3rd day of Ramadan (24 August) until the 28th day of Ramadan (18 September) priced at RM78++ per adult and RM47++ per child. To avoid disappointment, prior reservations are recommended by calling their Ramadan Hotline at 03-89498888 ext 1294 / 1330