We decided to host berbuka puasa for the extended family last 2 weeks. I was not sure what kind of lauk to cook to accompany daging, sotong and ikan bakar. Plus SIL will usually bring some dishes she cook for her children who are fussy eaters.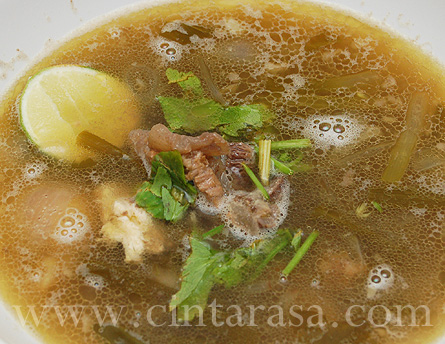 So in the end, I decided to cook sup tulang. Usually I will use the ribs part to make soup, but since the butcher ran out of stock, we bought the part near daging batang pinang portion…(not sure what they call that part of bones is)
Since I don't have pressure cooker, I boiled the soup for about 1 1/2 hour. I didn't put carrot or potato inside the soup since I wanted to make it ala Thai. Usually for sup daging style siam, they put in beansprouts and lime juice to make it sour.
It turned out to be nicer since the meat on the bones were more fleshy and soft compared to the usual tulang rusuk. Next time I want to make sup tulang, I will ask for that part of bones instead..heh!