This picture of meatballs in IKEA restaurant was taken in April 2008. But I guess if you go there now, you will still get to buy this kid's menu of meatballs (not sure about any change in price though!)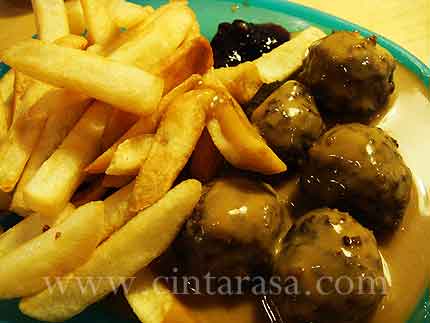 The day that I ate this, I also ate Gravad Lax. That was why I opted for kid's menu instead of the normal portion of meatballs. I like the cranberry sauce that comes with the meatballs. At first I thought it tasted weird to have something sweet with meat (the first time I ate meatballs in IKEA) but after a few more meals, it tastes just right..hehe!
But I still eat the fries with chili sauce..I guess you can't run away from the fact that Malaysians like spicy food…(even if they are pretending to enjoy Swedish food..haha!) So if you are in Mutiara Damansara area, head to IKEA restaurant and have their famous meatballs.