It's been a while since I go out and eat Mee Kungfu in a restaurant. One day I decided to search for the recipe and cook this dish on my own…and it was not hard at all..heh!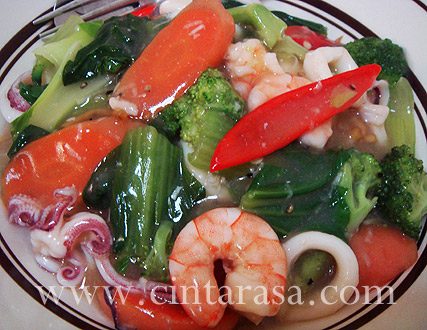 You can't really see the noodle in the picture above as it was hidden beneath the assortment of vege and seafood. At a first glance, my friend who saw this picture on my other blog thought that it was a dish of mixed vege and seafood soup..huhu!
Anyway, for those interested to try cooking this recipe at home, you can check the recipe at Mat Gebu's blog – Kuetiau Kungfu. He used flat noodle instead of the yellow egg noodle but the steps to cook are the same. You can also substitute yellow noodle with bihun if you prefer!