After trying many bought mee kari and felt very frustrated with the taste, I decided to make my own version of mee kari yesterday.
There are many version of mee kari recipes, both online and offline. I don't have chicken in stock so I decided to use udang (prawn), kerang (cockles) and fishball instead.
For the paste, I blended the thinly sliced lemongrass (serai), ginger and galangal (lengkuas). I also put in red onion and garlic. For this particular mee kari, I used rempah kari daging/ayam Adabi. Maybe next time I will use Baba's curry powder just to see whether it makes any difference to the spicy-ness level..heh!
Oh, I also added in a ladle full of blended dried chili when frying the spice paste. As usual I use santan kotak MS brand…the small packet (200ml) will do because I don't want the gravy to be too thick with coconut milk.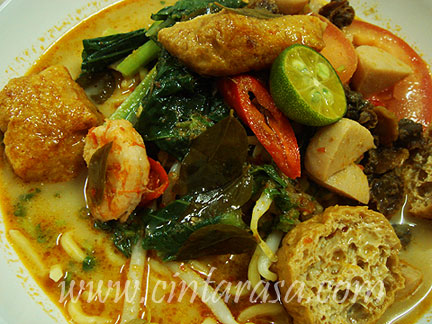 For the additional liquid, I used stock I made by boiling the shells and head of the prawns I de-shelled the night before. I kept those prawn shells in freezer and boiled them for about 20 minutes to make air rebusan udang.
I put in tauhu pok (the fried dried tofu) as it is a must ingredient found in mee kari. You can also add in fish cake as it is more salty compared to normal white fishball and give more oommph to the gravy taste.
After many years of not cooking mee kari, I would say it was not that bad. After a tweak here and there (Hubby prefers it to be more spicy), we managed to finish the 3/4 pot of kuah mee kari..haha!