Last Friday I decided to try buffet dinner in Atrium Cafe, Pyramid Tower. We have tried their Ramadhan buffet there last year and it was not satisfying. This time I thought it could be different, but boy, I was wrong..huhu!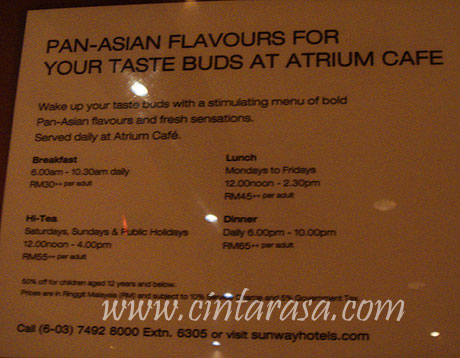 At first we thought it could be OK since they have the Middle Eastern culinary feast. I was imagining whole lamb BBQ…yumm!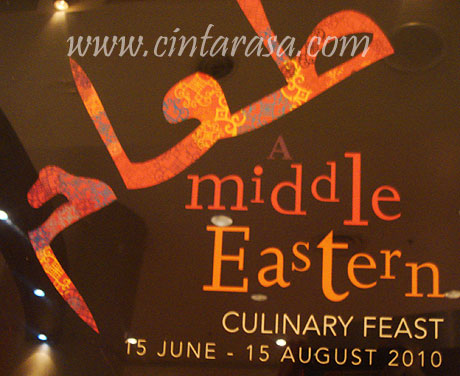 Since they also have Pan Asia menu, I thought I will try wantan noodle first. But till the end I couldn't get my wantan noodle since the chef was busy running from the kitchen to the front counter, he told me the noodle will be ready in 5 minutes but after 10 minutes the noodle was never ready.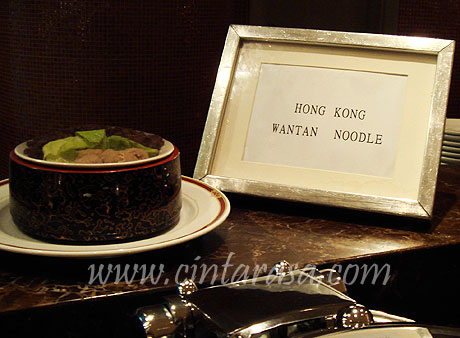 So fine, I'll eat something else which doesn't require a chef to prepare. By that time I already minus 1 point from my expectation.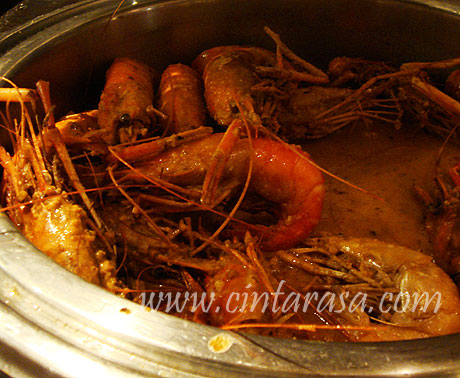 I saw someone else taking a lot of udang galah, so I thought just try one piece with rice. Yucks, the prawn was not properly cleaned, there was one big black lump of tahi inside its head. Is this a normal standard for a 4-star hotel kitchen?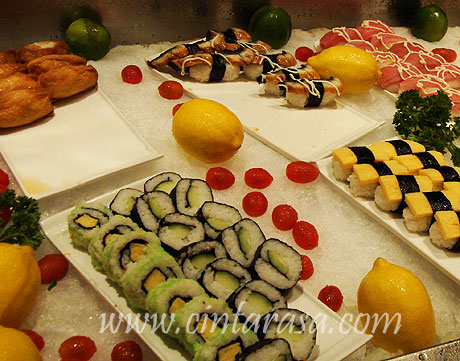 Then I tried their sushi selection. When I took my choice, they have not refilled the unagi, so I just took a few that I usually will eat in Sushi King. And boy, those sushi I chose tasted worse than those cheapo one sold in Carrefour. Very disappointing!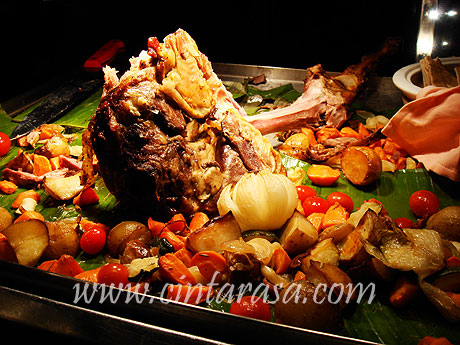 Not giving up, next I went to the Middle Eastern Culinary Feast counter and asked the chef for the roasted lamb. And he was like very "kerek" with me. Eh, I pay for my meal you know, not that I am eating for free. The roasted lamb was like so-so, not as good as I expected, unlike the one we had in Marriott Putrajaya last year.
Still on the issue of the sombong chef, as I was waiting for my lamb to be carved, one Mat Saleh came to the counter taking some fried nugget, and the guy suddenly changed his tone and cheerfully asked the Westerner whether he'll be interested with the roasted lamb. Later when a family of Arabs came and sat next to our table, the same chef came and gave a plate of hash brown, saying this is for you, sir!
Hello! We will be celebrating 53 years of Independence and yet there are still Malaysians who are so willlingly kissing ass of foreigners. If you are practising courtesy and sikap ramah tamah, then you should practise it to all patrons, not limited to foreigners.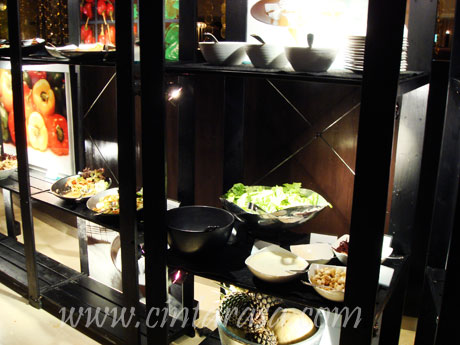 Since the Atrium cafe is not so spacious, they have this creative ideas of putting all the desserts and appetizers on shelves like in the picture.
What I found as funny is the placement of cencalok, budu and sambal belacan there. Those condiments are not appetizers, they should be placed somewhere near to all the Malay lauk pauk and nasi putih. I wonder who is in charge of their Malay Kitchen..sigh!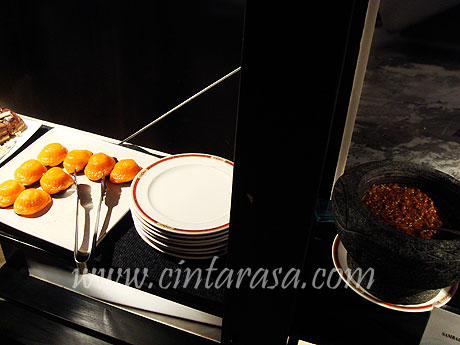 See, that untouched sambal belacan…next to the plate of Chinese kuih…hemm.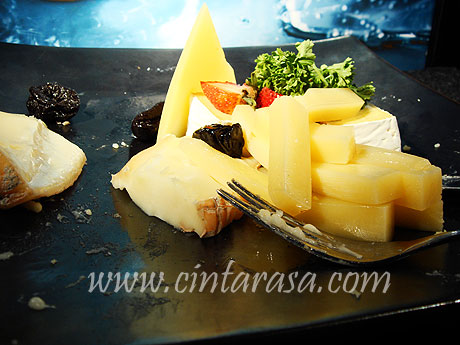 They also have cheese platter to be eaten on crackers. They are serving Pan-Asia menu, so must have cheese..heh!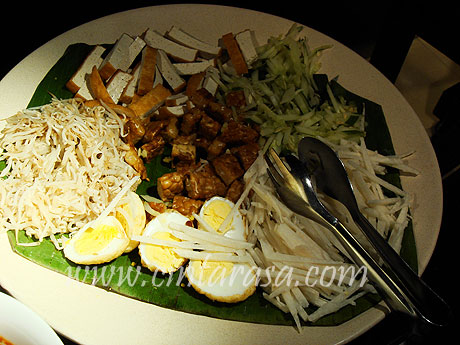 And gado gado as part of their Malay appetizer. Hubby took a plate but I found the gado gado gravy not so tasty.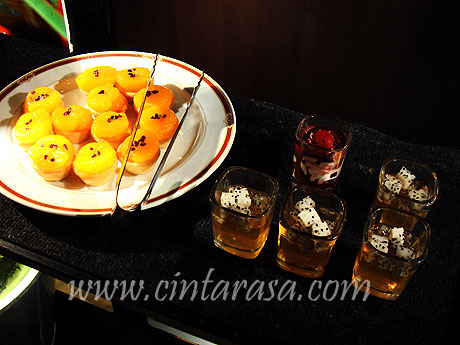 I was hoping that they have all kind of jelly and pudding, but they only have these.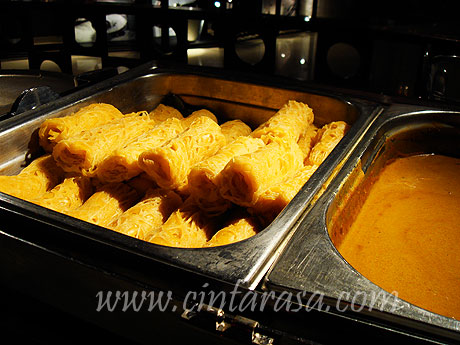 On the outside stalls, they have lok lok, yee mee and roti jala with chicken curry. The roti jala was too thick but the chicken curry was nice.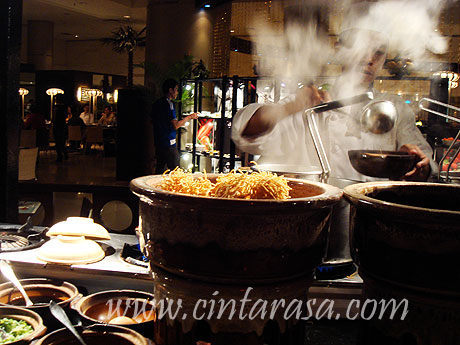 The Yee Mee chef was preparing my order. And he was also "kerek" when Hubby went to take my order. Not the kind of attitude they should have when working in service and customer oriented environment.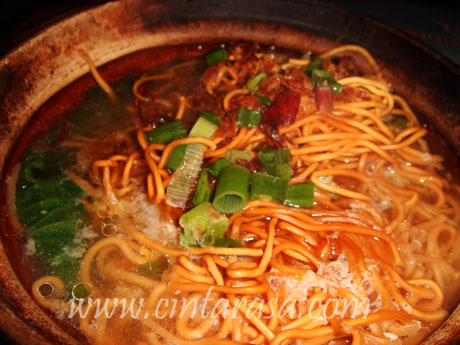 Oh, it took me some real effort and waiting time when asking for refill for the plain water. And I wonder why, because there were not that many people at the area that we were seated. And for a buffet price of RM65++, they don't even have any other drinks, be it hot or cold. And we were not even asked whether we want to order separate drinks.
Well, that's it Atrium. This will be the last time I'm going to eat at your place. Go kiss some foreign ass if that's what going to bring you more money. For those thinking of going there for Ramadhan buffet, think twice, you have been warned!