After a year of planning to eat at Marriott Buffet Ramadhan again, we finally made it this year.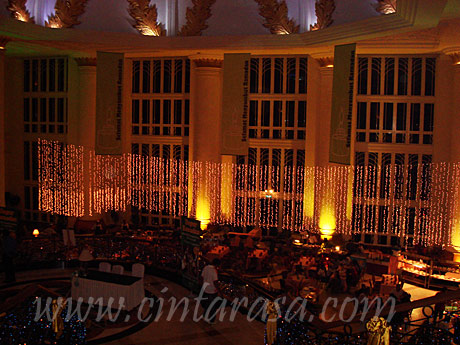 Not much of change in terms of their food selection, they still have my favorite like the BBQ lamb and Italian pasta.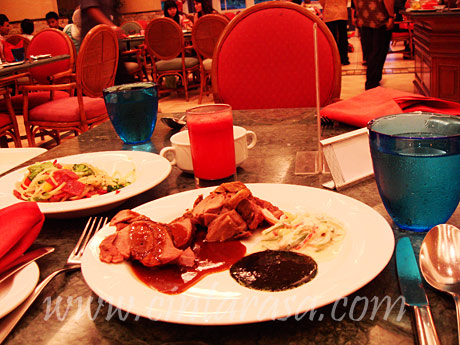 We were seated inside. Very spacious eating place I would say, even with almost full house. There's no chance of bumping into next people's table. They have enough number of waiters and bus boy (even if they have to hire foreigners). It makes the whole buffet experience such a great time since there will always be refill for plain water and someone taking up the dirty plate from your table.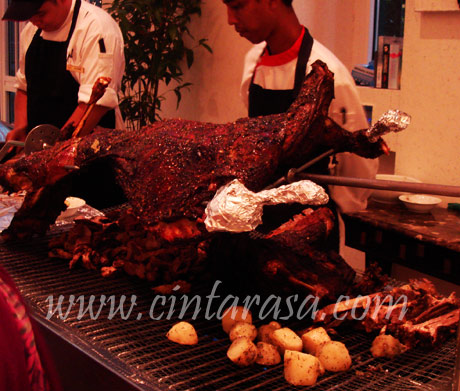 Those who are working behind the counter were very polite and courteous. Not once my mood was spoiled by any of the person in charge.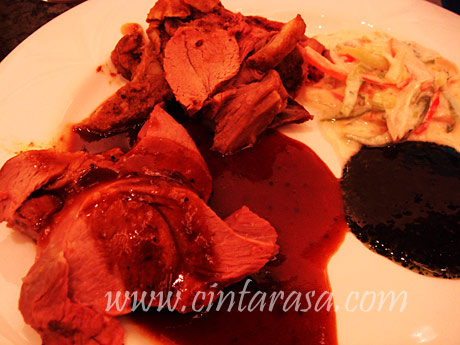 The first round I took lamb and eat it Western style. The black pepper sauce was delicious.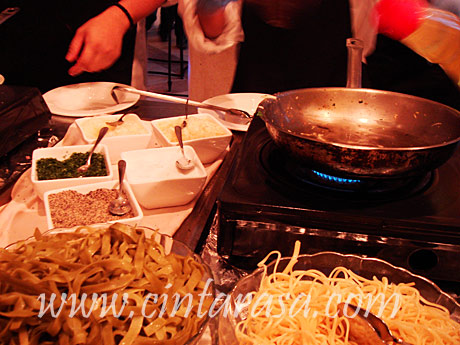 At the Italian counter, you can opt for pasta Aglio E Olio. Choose whatever ingredients you like and the chef will cook it for you. They also have carbonara sauce and bolognaise for those who prefer their pasta to be eaten that way.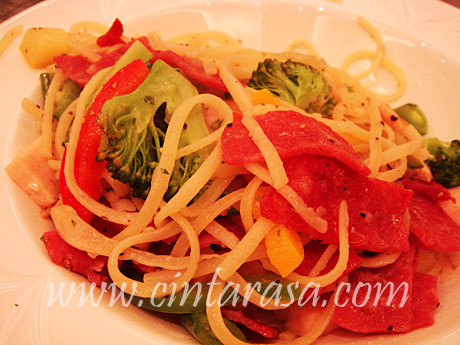 They also have murtabak ayam and daging, roti bom to be eaten either with the onion pickles, dalca or kari ayam. Or you can choose any kind of gulai kawah they have. I think they also have asam pedas and kari kepala ikan cooked in the large kawah.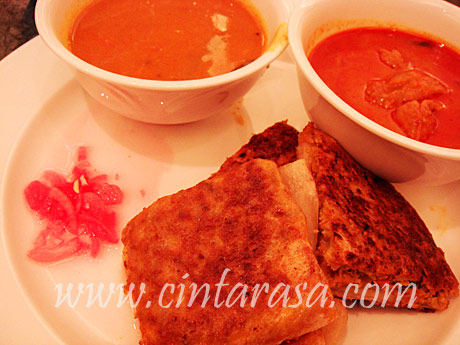 I ate a bit of their nasi beryani to go with the lamb and then I took a small plate of nasi ulam. Oh, they also have nasi kerabu which I just didn't have any space left in my tummy to try.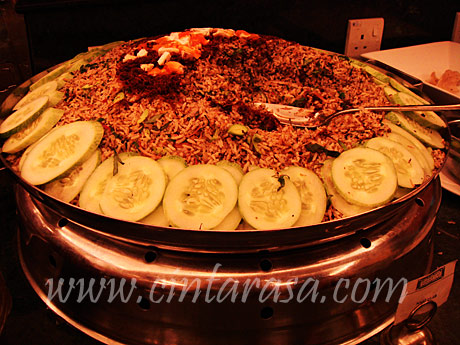 My favourite drinks will always be their teh tarik. When you go to the teh tarik stall, the guy there will "tarik" for you from the pot of tea. Nice, huh!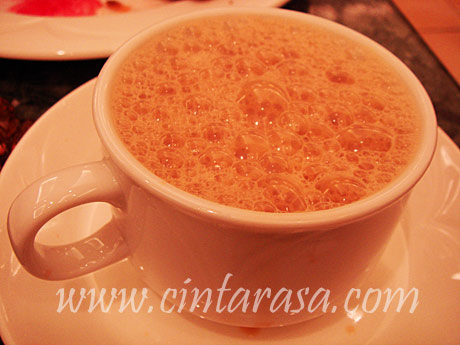 For those who love kuih muih and pastries, you will be spoiled for choices.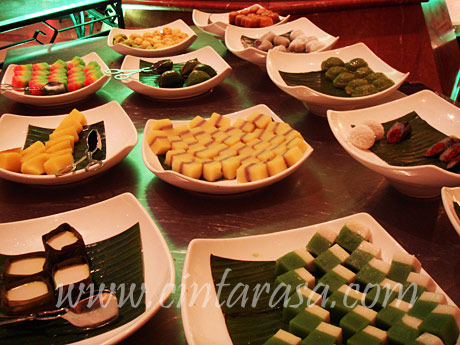 I tried some of the desserts. I was hoping they have mango pudding, but they don't..huhu!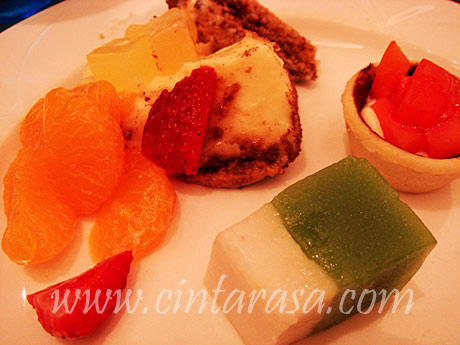 Their usual buah-buahan (cut fruits) counter nearby the fountain.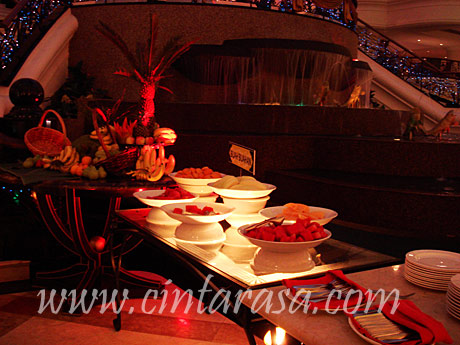 As per last year, they have a large selection of ABC ingredients.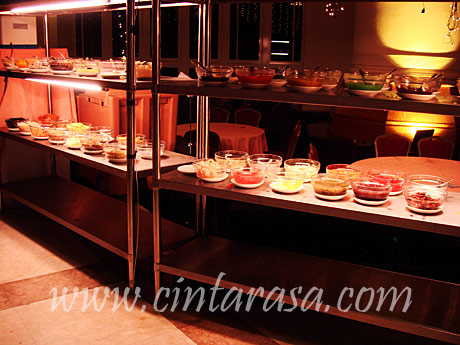 I saw most children were happily taking a bowl of self made ABC to their own table.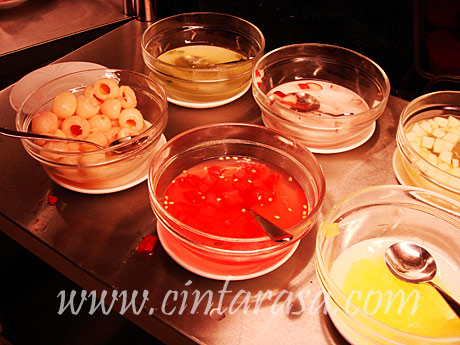 These are the pictures of the food spread inside which I didn't get the chance to eat. They have gado gado, rojak buah, all kind of kerabu, Western appetisers like salad.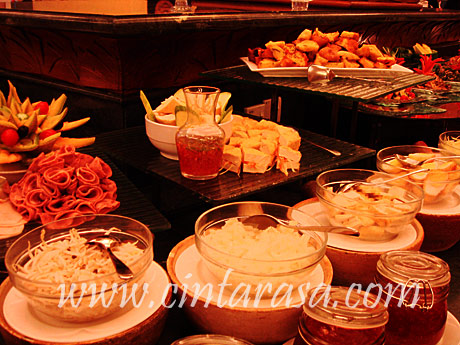 Personally I feel that most people will enjoy the varieties of food they have. If you are not into rice, you can try the Mexican dishes like Taco, soto ayam, bihun sup, ikan bakar or satay. Oh, they even have dim sum and sushi.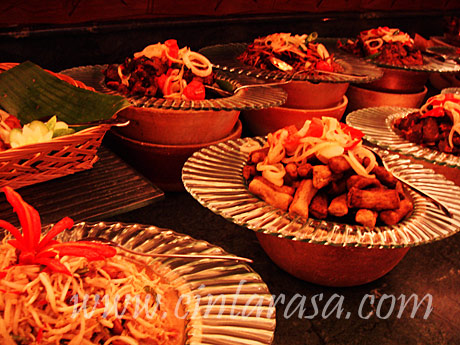 The "Dapur Ramadan" buffet is priced at RM75++ per adult and RM45++ per child from August 11 to 15 and Sept 9. From Aug 16 to Sept 8, the buffet is priced at RM85++ per adult and RM51++ per child.
Reservations are recommended. For information and reservation, call 03-8949 8888 ext 1294. or email [email protected].