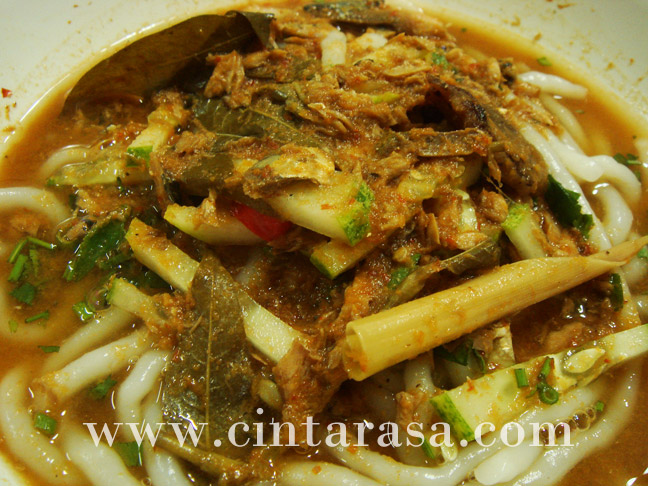 I know that I've posted earlier that I will not make any laksa penang after the tiresome experience last Raya holiday. Somehow during the shopping spree at Pasar Borong last Sunday, I decided that I could be making a small pot of kuah Laksa Penang. It's been a while since I had a good bowl of Laksa Penang. Those bought at pasar malam don't do any justice to the real taste of assam laksa.
This time I was wiser. The night before I cleaned those kembung that I want to boil and kept them in the fridge. The next day, I boiled those fish, picked their flesh, pounded the bones and made the kuah. I put a bunch of daun kesom and a stalk of bunga kantan inside the gravy. For the paste, make sure you use a good belacan. Blend it together with dried chili and shallots. To make my life easier, I even bought laksa basah cap WIN at the pasar borong. Somehow it doesn't taste so good as it is too springy. I ended up boiling laksa kering cap EKA afterwards.
If you want your laksa penang to taste as authentic as it could be, make sure you have otak udang, daun pudina (mint leaves) and nenas (pineapple) as the condiments. Oh, my personal favorite would be to add in a lot of timun (cucumber) and daun selom.