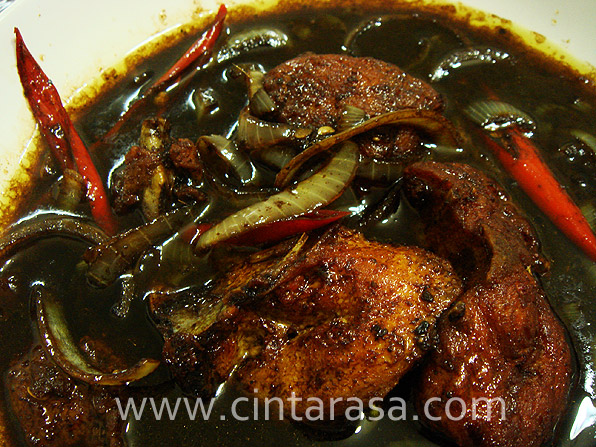 There are many version of ayam masak kicap, seriously!! You can do the thick gravy Mamak style with all the spices like bunga lawang, kulit kayu manis, serbuk lada hitam and whatnot or you can do this malas version, quick and easy especially if you are cooking it for sahur.
This is how I do my easy version of ayam masak kicap.
4-5 pieces of fried chicken pieces (sometimes a leftover from berbuka, otherwise marinate your chicken with garam kunyit and fry them)
half a red chili
half a big onion (this time I used Holland onion, they are sweeter compared to the big red onion)
about a thumb size of asam jawa (tamarind), mixed with water into air asam jawa
kicap tamin (kicap manis)
some kecap manis ABC
salt and sugar for seasoning
1. If you have some oil from frying the chicken, use them to make this masak kicap. Use about 3 tablespoon.
2.I usually have stock of blended onion and ginger, so I use them to fry in the chicken oil before I dump in the sliced chili and Holland onion.
3. Add in all kind of kicap.
4. Add air asam jawa. Taste the gravy so that you can gauge how much more sugar and salt you might need for seasoning.
5. Then add in the fried chicken pieces. Let them simmer for a while.
Ready to eat for sahur. If you somehow make it too salty due to too much kicap, or if you use kicap masin, you can add in potato or carrot as these two ingredients can suck the saltiness in cooking. I usually will add in a little bit more of air asam and sugar. Adjusting the taste of your cooking is crucial, make sure you taste your food before you serve them.
Have fun cooking!!