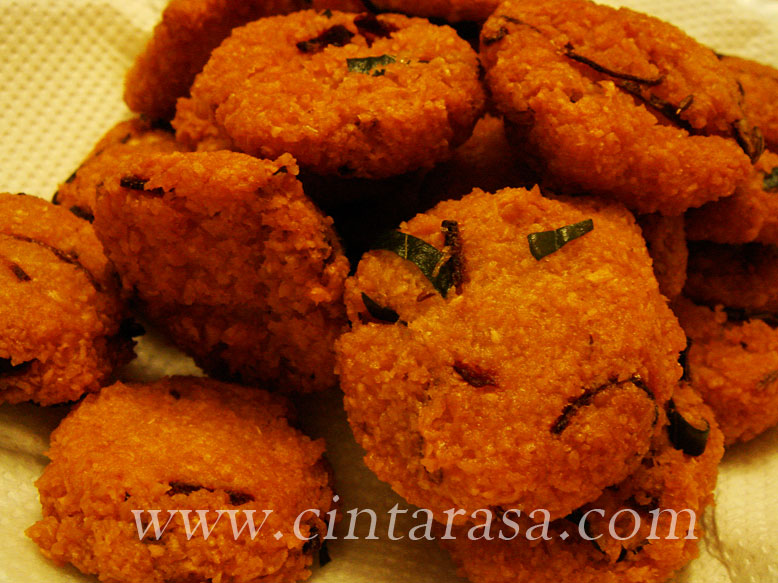 I've been making this type of vadai since I learned the recipe from my mom (who learned it from her Indian neighbor) but I never know the right name of it. Later I found out that it's called paruppu vadai or masala vadai.
Taken from wikipedia:
Vada, vadai, or vade, pronounced 'Wah-dei', is a traditional food preparation from southern India. They are typically deep-fried in oil and served with savoury accompaniments.
There are two types of vadai – Paruppu vadai made ​​from chana dal (split de-husked black chickpeas), and Ulundu vadai made from urad dal (de-husked black lentils.) Sliced ​​green chillies, curry leaves and onion are also mixed into the batter, and ulundu vadai batter contains rice in addition to these.
While paruppu vadai is circular and slightly flat, ulundu vadai is wheel-shaped with a hole in the middle. Ulundu vadai is usually enjoyed with chutney or sambar.
I used Australian dal and soaked it overnight. Actually you just have to soak it for a few hours.
I put the soaked dal in food processor and blend it to the smoothness I like. Some people like their vadai coarse. I then add in slices of big onion, red chili and cumin (jintan putih). Oh, I also cut curry leaves (daun kari) into fine slices and add inside the vadai mixture.
I shape it into flat and round pieces and put on plate before I fry it in hot oil.
Try it at home. An easy snack recipe!