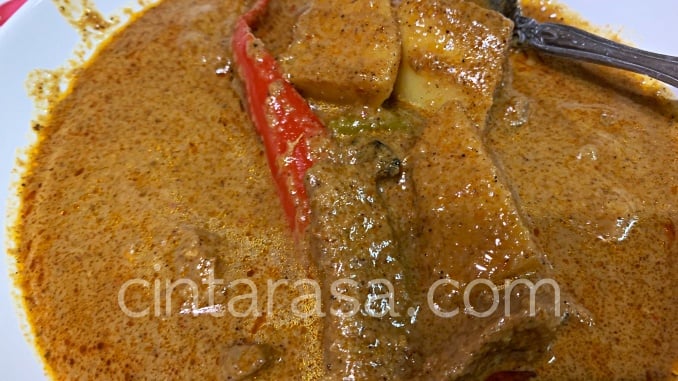 One of us spent many years living in Terengganu and there is a distinct taste in their curry that is not found elsewhere in the country.
This Ramadhan we were able to try out the Rempah Cap Bunga Rose we ordered from a seller in Shopee.
This delicacy is usually eaten with flavored rice like Nasi Minyak or Nasi Hujan Panas, although plain rice is fine too.
Ingredients:
300 grams of fresh beef, boiled until soft
2 tablespoon of the Rempah Gulai Cap Bunga Rose
1 and a half tablespoon of Rempah Masak Cap Bunga Rose
1 teaspoon of beef curry powder
5 pieces of shallot
2 cloves of garlic
Half piece of Holland onion
2 inch of galangal
1 inch of ginger
2 tablespoon of chili paste (cili boh)
1 small box of coconut milk
1 piece of cinnamon stick
2 pieces of star anise
2 pieces of cardamom
3 pieces of clove
2 pieces of green pepper (locally called chili), cut into halves
2 pieces of red pepper (locally called chili), cut into halves
1 piece of Holland onion, quartered
1 piece of asam keping/asam gelugor
2 teaspoon of kerisik
Salt and sugar to taste
1 or 2 diced potatoes (if desired)
Instructions:
Boil the beef pieces until soft. Keep the stew.
Process the shallots, garlic, onion, ginger, and galangal in a blender. Minimize use of water so that we have a thick paste.
Combine the processed items above with chili paste, Rempah Gulai, Rempah Masak, beef curry powder. Mix well.
Sauté the cinnamon stick, star anise, clove, and cardamom until fragrant.
Pour the mix above into the pot until oil surfaces.
Put in the beef and stew. Stir slowly until oil surfaces.
Put in coconut milk and kerisik.
Put in the asam keping, halved red and green chilies, and quartered Holland onion. This is when you need to add the potatoes if you decided to include them.
Add sugar and salt to taste
For us, the result was incredible. It was like taking a trip back to Terengganu.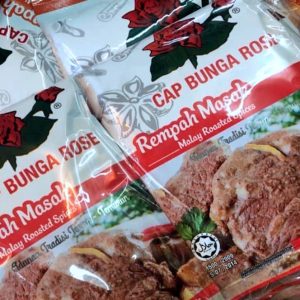 Note that the Rempah Masak and Rempah Gulai are two different products, and they are both included in the recipe. You can read more about the products (or purchase them) on their official website.
No, this post is not sponsored.