Info taken from wikipedia:
"Spaghetti alla Bolognese, Spaghetti Bolognese, or Spaghetti Bolognaise in a form popular outside of Italy, consists of a meat sauce served on a bed of spaghetti with a good sprinkling of grated Parmigiano cheese.
Although Spaghetti alla Bolognese is very popular outside of Italy, it never existed in Bologna, where ragù is served always with the local egg pastas tagliatelle or lasagne.
Spaghetti is a durum wheat pasta from Naples, and the Naples Ragù of a meat flavoured thick tomato sauce clings much better to slippery spaghetti than Bologna's ground beef ragù."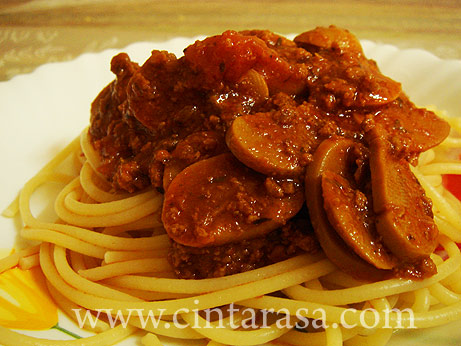 And yet all this while, I thought I'm cooking an authentic Italian dish at home..haha!
Nevertheless, it's still a good meal and quite easy to make. My version is using Mc Cormick Italian Herbs, Ducheff tomato puree, minced beef, some chopped fresh tomato, no onion but only garlic for frying, good amount of olive oil and button mushroom.
For this one I used San Remo spaghetti..although I prefer Buitoni as it takes less time to cook.