What do you cook when hunger strike at midnight and you just feel like eating something soupy. Try Maggi sup.
You know, when people go and eat at Mamak, this is one of the famous menu apart from Maggi Goreng..haha!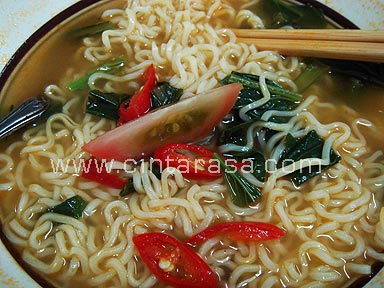 This one is Asam Laksa flavoured. Usually at Mamak they will use kari or ayam flavour.
If you use curry flavor then you can put one egg and it wouldn't taste that gross. But if you put egg in Asam Laksa, I doubt you could finish your maggi.
It's so easy to make maggi sup, I bet a 6 year old could make one. (I made my first maggi sup when I was 6..haha!)
The instruction is as listed at the back of the noodle packet, it's just that you have to add in extra vege to spice up the taste.
This one I put sawi and red chili, but if you put a leaf or two of cabbage it would taste yummy as well.