This is a Sponsored Post written by me on behalf of Crowdtap. All opinions are 100% mine.
On Crowdtap you earn rewards for gift cards and a charity of your choice for taking polls, participating in discussions with brands, sharing online content, sampling products and throwing house parties with leading brands.
I have tried to Tap In at Crowdtap.com. However as it is now in beta in the US only, I am unable to participate further. But I did get the first $1 and points for signing up.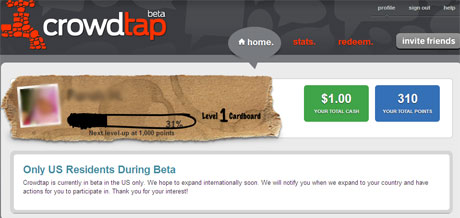 Only US Residents During Beta

Crowdtap is currently in beta in the US only. We hope to expand internationally soon. We will notify you when we expand to your country and have actions for you to participate in. Thank you for your interest!
Since I can't do much, I look around.
When you have more than $10.00 in cash available, you can redeem your earnings here. 5% will automatically go to the charity you selected which Crowdtap will match. You can choose to donate the rest for your charity or get an Amazon gift card e-mailed to you.
Oh, signing up is easy. For those with Facebook account, you can do so by logging in. For those with great ideas and critical mind when it comes to consumer products and brands, this is a great chance for you to share your thoughts.
Check out Crowdtap.com. View opportunities and complete one that you like. You'll earn status and rewards. And at the same time, you get to give to the charity of your choice. So hurry up people, signup for Crowdtap and get your first $1 to charity or gift cards just for signing up.